Russian president Putin visits Egypt
(Agencies)
Updated: 2005-04-27 09:18
Russian president Vladimir Putin made the first official visit to Egypt by a Russian leader in 40 years Tuesday, focusing on efforts to revive the internationally backed plan for Mideast peace during a meeting with Egypt's leader.
Russia, along with The United States, the European Union and the United Nations, is a sponsor of the "Road Map" plan for an Israeli-Palestinian peace. The plan, which aims to create a Palestinian state by 2005, has long been stalled since it was signed in June 2003, but has shown signs of life under the new Palestinian leader Mahmoud Abbas.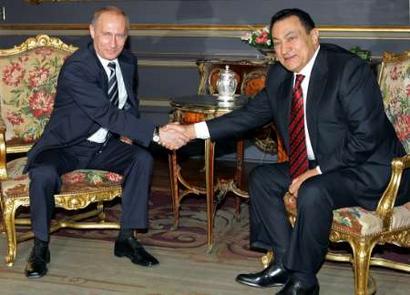 Egyptian President Hosni Mubarak (R) shakes hands with Russian President Vladimir Putin in Abdeen Presidential Palace in Cairo April 26, 2005. Putin began a Middle East tour in Egypt on Tuesday, the first Russian or Soviet leader to visit the former Soviet ally for 40 years. [Reuters]

Putin and President Hosni Mubarak did not speak to reporters after their talks in the 19th century Abideen Palace, but a spokesman for Mubarak said the main point of the meeting was the Palestinian-Israeli conflict.

The two leaders shared a similar approach to the Middle East, spokesman Suleiman Awad, said.

Putin, who was making his fist visit to the Middle East as Russia's leader, arrived in Cairo on Tuesday and will go on to Israel Wednesday ¡ª the first by a Russian or Soviet leader to that country also ¡ª amid hopes Moscow can play a larger role in restarting the Road Map talks.

Putin's predecessor, Boris Yeltsin, never held a presidential meeting in Cairo, but he attended an international summit in the Egyptian resort of Sharm el-Sheik in 1996.

Putin and Mubarak will meet again on Wednesday morning. Russian officials say their talks will cover Iraq, Lebanon and Syria, and proposals to reform the United Nations.

Putin told the leading Egyptian newspaper Al-Ahram that his visit to Egypt was intended to bolster with a region where the former Soviet Union once wielded tremendous influence ¡ª including backing Egypt and Syria in three wars against Israel before Moscow restored ties with Israel during the perestroika era.

"My colleagues and I think we must start direct communications with Arab countries, starting with Egypt," Putin told the paper in an interview.

Commercial ties between Russia and Egypt are growing. Last year trade turnover doubled to reach $834 million. Putin's delegation includes Russian business executives who are expected to meet Egyptian industrialists interested in Russian technology.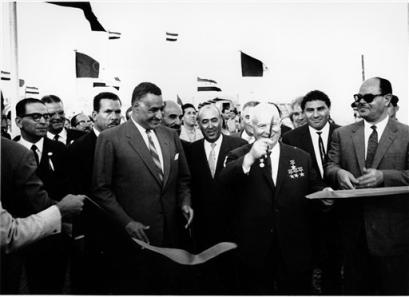 Soviet Premier Nikita Khrushchev cuts the ribbon to open the first stage of the Russian-financed High Dam at Aswan, Egypt, as Egyptian President Gamal Abdal Nasser, front row, second left looks on in this May 14, 1964 file photo.[AP/File]

The last Kremlin chief to make an official state visit to Egypt was Nikita Khrushchev, who in 1964 inaugurated the first stage in the construction of the Aswan High Dam ¡ª a hugely ambitious project to irrigate arable land which once supplied up to 80 percent of Egypt's electricity. The dam was partly financed and built with Soviet help.

But the close ties forged between Egyptian leader Gamal Abdel Nasser and Moscow lapsed after his death in 1970 when the Arab nationalist hero was succeeded by Anwar Sadat, who set the regional powerhouse on a new pro-American track that accelerated under Mubarak.

Today, Egypt is the second-largest recipient of U.S aid after Israel, and is seen as a staunch ally of Washington.

Russia in turn has forged stronger ties with Israel, which is home to a large Russian-speaking population and cooperates closely with Moscow on anti-terrorism efforts.

"The visit to Israel is no doubt more important, but Putin's presence in Egypt will rekindle enthusiasm about long-lost ties," said Fyodor Lukyanov, editor of the Russia in Global Affairs quarterly journal.

"Egypt is a key power in the Middle East and Russia is keen to show it has an important role to play in world affairs," he said by telephone from Moscow.

Israel is expected to begin withdrawing its forces from the Gaza Strip later this year, and Egypt is cooperating in the pullout to ensure security on its northeast frontier, where the Gaza Strip sits.




Today's Top News
Top World News

Lien Chan starts historic trip to mainland




Watchdog urges control of economy 'tumour'




Hu lands in Manila after Jakarta visit




42 held for protest property damage




China sees soaring overseas visitors




Enhancing mine safety 'top priority'