Toll in Japan train crash hits 91
(Agencies)
Updated: 2005-04-27 09:00
The death toll from Japan's worst train accident in 40 years rose to 91 on Wednesday and chances of finding more survivors grew slimmer but rescue workers pressed on with the search for a third day.
Rescue crews carefully made their way into the wreckage and retrieved 18 bodies overnight after power shovels tore up a mangled carriage lying next to an apartment building on the outskirts of the western city of Osaka.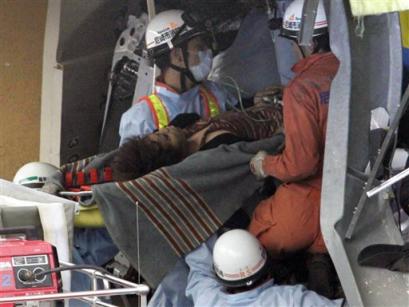 A survivor is rescued, nearly a day after a train accident in Amagasaki Tuesday morning, April 26, 2005. [AP]
About a dozen bodies remained trapped inside the front carriage, embedded under the building in a car park area.
Police raided the offices of the train's operator on Tuesday looking for clues to the cause of the crash.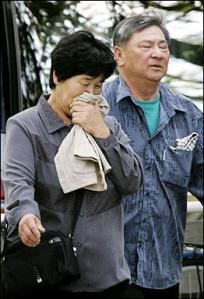 Relatives of a train crash victim leave a gymnasium used as a temporary morgue after they checked a body in Amagasaki, near Osaka, western Japan. At a nearby gymnasium which has been turned into a makeshift morgue for bodies, some 100 people, who have lost contact with their family members or friends, wait anxiously for any information about the missing people. [AFP]
Investigations were focusing on speed as well as other factors such as rail design that caused the packed commuter train to jump the tracks and smash into an apartment complex just after the morning rush hour on Monday.
Data recorded in the train's system showed it was traveling at 100 km (62 miles) an hour as it approached the site of the accident, where the speed limit was 70 km per hour.
But analysts said speed alone would not likely have led to the disaster.
Police investigating for possible professional negligence carried away boxes of documents from the offices of West Japan Railway Co. (JR West).
JR West, part of a former national railway which was completely privatized a year ago, has been trying to improve profitability by cutting costs, leading to speculation that it may have not have spent enough on safety precautions.
The automatic train stop system in the area was of the oldest type and had no ability to apply automatic brakes if a passing train was going too fast, the Transport Ministry said.
Analysts said the accident could have been caused by a number of factors such as a malfunctioning brakes, faulty rails and driver error.
JR West has said there were marks on the tracks of the type left when a train runs over an object such as a stone, but added that it was not clear if this was related to the accident.
The train had overshot the previous station by about 40 meters (130 feet) and had to reverse back to the platform, putting it more than a minute behind schedule.
The fate of the driver, a 23-year-old man with 11 months' experience, was not confirmed but Kyodo news agency reported that a uniformed man believed to be the driver had been located in the wreckage and was not showing any vital signs.
The same driver also over-shot a station by 100 meters (328 feet) last June, railway officials said.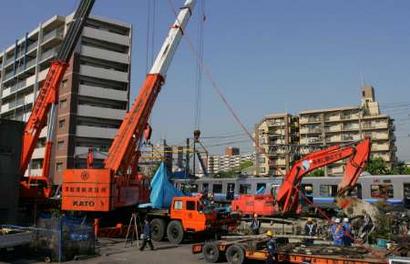 Heavy machines are used to remove wreckage of a derailed commuter train April 27, 2005, at the site of the train that smashed into an apartment building in Amagasaki in western Japan.[Reuters]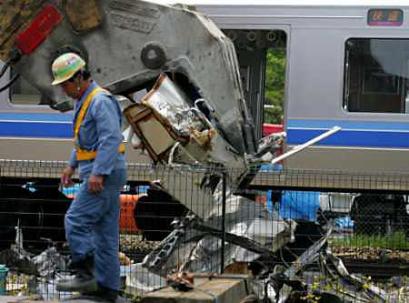 A worker walks past as a machine removes the wreckage of a derailed train at the site of the train that smashed into an apartment building in Amagasaki, western Japan April 26, 2005.[Reuters]
The accident was the worst for Japan's heavily used rail network since 1963 when about 160 people were killed in a multiple train collision and the most serious since Japan's rail network was privatized in 1987.
The accident was also a blow to the efficient image of the railway system, which boasts 16,780 miles of track and transports more than 20 billion passengers a year.
Today's Top News
Top World News

Lien Chan starts historic trip to mainland




42 held for protest property damage




Watchdog urges control of economy 'tumour'




Hu lands in Manila after Jakarta visit




China sees soaring overseas visitors




Enhancing mine safety 'top priority'