KMT leader lands in Nanjing after a 56-year absence
(Xinhua)
Updated: 2005-04-27 00:22
Taiwan opposition Kuomintang (KMT) Chairman Lien Chan yesterday called his mainland visit "a first historic step" as he arrived in Nanjing on the first leg of his eight-day trip.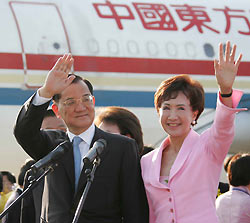 Kuomintang Chairman Lien Chan and wife Lien Fang Yu arrive in Nanjing, capital of Jiangsu Province, yesterday afternoon, launching their historic journal for peace to the Chinese mainland. [newsphoto]

The 69-year-old leader, who became the first KMT chairman to set foot on the mainland since 1949, also vowed to strive for cross-Straits peace and stability.

Lien was given a red-carpet welcoming ceremony attended by Chen Yunlin, director of the Taiwan Work Office of the Central Committee of the Communist Party of China (CPC), at Lukou International Airport.

"I am very happy we finally took a first historic step," Lien said in an emotional speech.

"Today I really have a feeling from deep in my heart that our meeting should have happened earlier."

This is Lien's first trip back to the mainland since he left his birthplace Xi'an in 1946 when he was just 10 years old.

Leading a large-scale delegation with more than 60 members including three vice-chairpersons and a number of high-ranking party officials, Lien earlier defined his mainland trip as "a journey of peace."

The KMT leader told reporters yesterday that his visit will help address the common future of both sides of the Straits.

"Finding a reciprocal, mutually beneficial, peaceful and win-win future for both sides is of concern to all people," he said.

"The KMT is ready to do its part in realizing the objective of establishing cross-Straits peace and stability."

Speaking in Taipei earlier yesterday, Lien said his mainland visit could be mutually beneficial for both sides of the Straits.

Both sides can seize the opportunity to move toward a win-win solution, to ensure mutual benefit and help, co-existence and common development, he said.

The KMT chairman said he hoped to learn more about the development of the mainland during his four-city trip which will take him from Nanjing to Beijing, Xi'an and Shanghai.

Last night, Li Yuanchao, secretary of the Jiangsu Provincial Committee of the CPC, met with Lien and his delegation and hosted a banquet in honour of Lien at the Jinling hotel.

He offered his appreciation for Lien's decision to make the mainland visit despite opposition from the Taiwan authorities.

"For a politician, the move to pursue peace needs wisdom and courage while the effort to seek consensus demonstrates responsibility and goodwill," Li said.

The Party secretary added that strengthening exchanges, dialogue and co-operation conforms to the common aspirations of people on both sides of the Straits.

He noted that Lien's mainland visit is of significance in strengthening economic, political and cultural exchanges across the Straits and improving bilateral ties.

It will also help safeguard cross-Straits peace and stability and check the secessionist activities of pro-independence forces, Li said.

During the talks, Lien said as long as both sides of the Straits uphold the rational spirit of mutual trust and respect, prosperity, stability and hope will come to people living on both sides of the Straits.

The KMT delegation brought tons of books and Taiwan-grown fruit as gifts to the mainland.

Among the books was the General History of Taiwan, written by Lien Chan's grandfather Lien Heng in 1918.

Lien, who once spent a short time in Nanjing during his childhood, called the city "a place which has a historical and emotional connection" to the KMT.

The KMT government was once located in Nanjing , which is also the site of KMT founder and pioneer of the Chinese Democratic Revolution Sun Yat-sen's mausoleum.

Today, Lien will pay his respects at the tomb and visit the Presidential Palace where Sun held office.

Tomorrow, he is scheduled to fly to Beijing to meet Jia Qinglin, a Standing Committee member of the Political Bureau of the CPC Central Committee, and hold talks with General Secretary Hu Jintao on Friday.

Lien's landmark trip has triggered a media war among overseas media organizations as well as those from the mainland, Taiwan, Hong Kong and Macao. Local officials said at least 400 journalists have flocked to Nanjing for coverage of the "big event."

Meanwhile, Nanjing residents have also given their blessing to the KMT leader's trip.

"I myself hope his visit can help improve relations across the Taiwan Straits," said taxi driver Zhang Mingzhao.

"Tensions and conflict will do no good to either the mainland or Taiwan."




Today's Top News
Top China News

KMT leader lands in Nanjing after a 56-year absence




President Hu starts visit to Manila




China: EU textile move could harm trade ties




All eyes on overseas State assets




Families grieve, 73 dead in Japan train crash




Over-investment urged to be under control