KMT leader arrives in Nanjing for historic visit
(Xinhua/Agencies)
Updated: 2005-04-26 16:50
Chairman Lien Chan of the Kuomintang (KMT) party arrived in Nanjing in east China's Jiangsu Province at 16:40 Tuesday to begin an eight-day mainland visit.

This is the first time the chairman of the KMT party has landed foot on the mainland in more than half a century.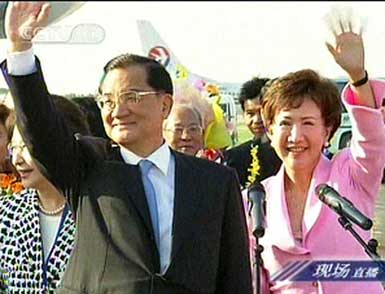 Lien Chan, leader of Taiwan's opposition Kuomintang (KMT) party, and his wife Fang Yu, wave to well-wishers and officials greeting them upon their arrival in Nanjing, Jiangsu Province April 26, 2005. Nanjing is the first stop of the KMT delegation's historic mainland visit. [Xinhua]

The KMT, China's ruling party from late 1920s to 1940s, left the mainland for the island province of Taiwan in 1949 when it lost a civil war.

Lien, at the invitation of the Communist Party of China (CPC) Central Committee and General Secretary Hu Jintao, will visit the mainland cities of Nanjing, Beijing, Xi'an and Shanghai from April 26 to May 3.

Lien is scheduled to meet with Hu during the trip, the first meeting between top leaders of the two parties in 60 years.

The last one took place in August 1945, when CPC Chairman Mao Zedong and KMT Chairman Chiang Kai-Shek met in Chongqing, a major city in southwest China, to negotiate an end to the civil war.

Nanjing, the first leg of Lien's visit, was once the capital of the KMT regime. Xi'an is the birthplace of Lien.

When the KMT described Lien's visit a "journey of peace," Lien said in Taiwan on Monday that "cross-Straits exchanges should no longer be hampered by the mindset of civil war." He expressed the hope that his visit could lay the groundwork for improved relations and closer trade links across the Taiwan Straits.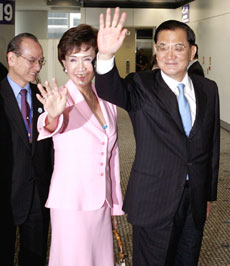 Lien Chan (R), leader of Taiwan's opposition Kuomintang (KMT) party, waves as he transits through Hong Kong's international airport with his wife Fang Yu (C) on his way to a historic visit to the mainland April 26, 2005. Lien began a historic 'journey of peace' to the mainland on Tuesday. [Reuters]

He left Taipei Tuesday morning and made a stopover in Hong Kong on his "journey of peace" to the mainland, seeking to promote peace and stability across the Taiwan Straits.

"We hope to use this visit to understand recent developments in the mainland and to exchange views with mainland leaders on peace, and cultural and economic ties," Lien, chairman of the Nationalist Party or Kuomintang (KMT), said before boarding his plane to Nanjing, the first stop of his mainland tour.

"Sixty years is a long time," Lien said, referring to when he left China. "We had a heart-wrenching history, so compatriots and friends on both sides should seize this chance to move along a win-win road to mutual benefit, aid, co-existence and tolerance."

Most opinion polls show the general public approve of Lien's visit to the mainland and analysts say hopes are high that it will help reduce tensions between the two sides of the straits.

In the stock market, shares of firms with heavy investments in the mainland extended Monday's gains on hopes Lien could help boost trade ties. Beijing had showered his deputy Chiang Pin-kung with economic incentives when he visited the mainland earlier this month to pave way for Lien's trip.

Lien's eight-day journey takes him to the former KMT capital of Nanjing, his birthplace of Xi'an in northwest China's Shaanxi province, Beijing and Shanghai, where many Taiwan investments are concentrated.

James Soong, head of the pro-unification People First Party, is set to travel to the mainland from May 5 to 12 and likely meet Hu.





Today's Top News
Top China News

KMT leader arrives in Nanjing for historic visit




China: EU textile move could harm trade ties




Families grieve, 73 dead in Japan train crash




Yen rallies, bet is on China revaluation




Economic growth expected to slow down




Olympic venues to be opened for public use