KMT chairman leaves Taipei for mainland visit
(Xinhua)
Updated: 2005-04-26 13:02
The Kuomintang (KMT) Party of China Chairman Lien Chan left Taipei at about 11:15 a.m. Tuesday morning to embark on a historic week-long visit to the mainland, according to sources in Taiwan.
The KMT delegation will first arrive at Nanjing in East China's Jiangsu Province, once capital of the KMT-ruled Chinese government before 1949, via Hong Kong.
Before leaving, Lien Chan made a brief speech at the airport, saying he wishes to increase understanding about the mainland and exchange views with mainland leaders on common concerns of both sides across the Taiwan Straits in this trip.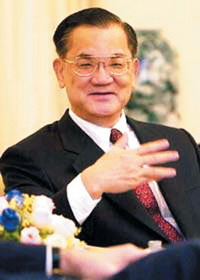 Lien Chan [file photo]

"Friends on both sides of the Straits should grasp this opportunity to seek mutual benefits and mutual assistance," said Lien.

Thousands of people gathered at Taipei's Taoyuan airport Tuesday morning to see the delegation off holding banners like "Bon Voyage, the Journey of Peace" amid "pro-independence" protests.

The delegation, at the invitation of the Communist Party of China (CPC) Central Committee and its General Secretary Hu Jintao, will visit the mainland cities of Nanjing, Beijing, Xi'an and Shanghai from April 26 to May 3.

Leaders of the two parties will meet for the first time in 60 years.

The delegation is expected to arrive at Nanjing Tuesday afternoon.

Around 500 reporters had gathered in Nanjing Monday for the event, including nearly 100 reporters from Taiwan, some 200 mainland reporters and some from Hong Kong, Macao and foreign countries.

"It's an indication of the keen expectations for stability and development of cross-Straits relations of the people on both sides of the Taiwan Straits," said Zhang Xianwen, director of a research center under the Nanjing University studying the history of the KMT rule in China.

Huang Jiashu, professor with the Beijing-based People's University, said although the KMT is not the ruling party in Taiwan, it is an important political force in Taiwan as it holds a considerable number of seats in the "legislature" of Taiwan and rules some counties and cities.

"Therefore, if the dialogue between the CPC and the KMT produces consensus in principle about concerns of the Taiwan compatriots, it will surely help to ease and promote cross-Straits relations," he said.

He urged the Taiwan authorities to approve contents of any possible consensus that would benefit the Taiwan compatriots and use executive power to push forward the implementation.

"If the Taiwan authorities controlled by the Democratic Progressive Party (DPP) could positively and pragmatically seek toease and develop cross-Straits relations, they will also win scores from the people on both sides of the Straits," said Huang.




Today's Top News
Top China News

KMT leader: Taiwan needs to blaze new trails




Families grieve, 73 dead in Japan train crash




Yen rallies, bet is on China revaluation




Economic growth expected to slow down




Olympic venues to be opened for public use




Draft interpretation under discussion