Blair fends off critics on Iraq, leads in polls
(Agencies)
Updated: 2005-04-26 12:39
British Prime Minister Tony Blair has overcome fierce opposition attacks over his support for the Iraq war to hold a strong lead in the run-up to a May 5 general election, two opinion polls showed on Tuesday.
A NOP poll for the Independent newspaper put Blair's ruling Labour Party on 40 percent, up three points on last week. The main opposition Conservatives were down two points on 30 percent and the Liberal Democrats were unchanged on 21 percent.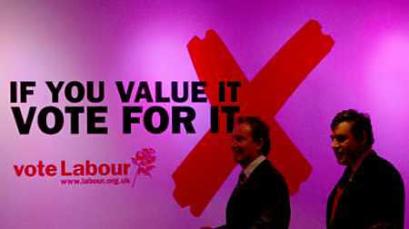 British Prime Minister Tony Blair (L) arrives with Chancellor of the Exchequer Gordon Brown at a news conference in London, April 25, 2005. Blair faced demands on Monday to hold an inquiry into Britain's case for war in Iraq as his rivals in the country's May 5 general election homed in on his support for the U.S.-led invasion. [Reuters]

If the figures were repeated on election day, Blair would be returned to office for a third successive term with his 161-seat majority in parliament cut only slightly to about 150 seats, the Independent said.

The poll of 959 voters was conducted between Friday and Sunday, when the election campaign shifted for the first time to Blair's support for the U.S.-led invasion of Iraq.

A poll by the Times newspaper and ITV News put Labour on 41 percent, the Conservatives on 33 and the Liberal Democrats on 19.

After weeks of debate on domestic issues, Conservative leader Michael Howard used a television interview to accuse Blair of lying over his reasons for backing President Bush on Iraq.

CRITICS DEMAND INQUIRY

Many of Blair's critics have demanded an inquiry into the grounds on which he went to war because none of the weapons of the mass destruction he accused Saddam Hussein of possessing have been found since the U.S.-led invasion in 2003.

But surveys suggest voters view domestic issues as more important than Iraq, and Blair has been boosted by a buoyant economy since he came to power in 1997.

However, the Iraq issue showed no signs of falling off the election agenda on Tuesday when veteran Labour legislator Brian Sedgemore, whom the Independent reported would join the Liberal Democrats, accused Blair of "stomach-turning lies."

"It becomes clearer every day that Blair decided to go to war after meeting Bush on his Texas ranch in 2002. After that he lied to persuade the country to support him," Sedgemore, who is standing down as a parliamentarian at the election after 27 years with Labour, told the newspaper.

Blair has repeatedly said he believed he made the right decision on Iraq and that the world was now safer without Saddam, accusing rivals of making personal attacks because they had nothing to say on issues such as health and education.

"I've come to the conclusion that for those people who are opposed to the war, the more I put my point of view, the more it simply irritates them," Blair said in an interview with the Guardian newspaper.




Today's Top News
Top World News

KMT leader: Taiwan needs to blaze new trails




Families grieve, 73 dead in Japan train crash




Yen rallies, bet is on China revaluation




Economic growth expected to slow down




Olympic venues to be opened for public use




Draft interpretation under discussion