Abbas says he expects Hamas to disarm
(Agencies)
Updated: 2005-04-26 09:01
Palestinian leader Mahmoud Abbas said Monday he expects Hamas to hand in its weapons after Palestinian elections this summer, but he stopped short of threatening to disarm the Islamic militants by force.
A Hamas official dismissed the call, saying Abbas should first disarm his own Fatah movement.
In violence Monday, Israeli soldiers shot and killed a Palestinian taxi driver after his vehicle ran over and killed an Israeli at a roadblock near the West Bank city of Hebron, rescue workers said.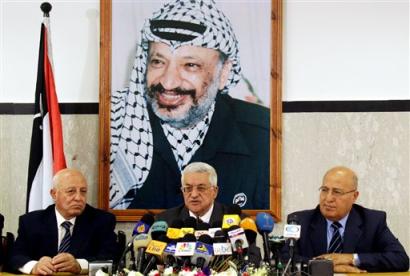 Palestinian Authority President Mahmoud Abbas, also known as Abu Mazen, center, sits with Prime Minister Ahmed Qureia, left and Deputy Prime Minister Nabil Shaath, right, as he talks to the media during a news conference at his office in Gaza City, Monday April, 25, 2005. Abbas said Monday he expects the militant group Hamas to hand in its weapons after joining the Palestinian parliament this summer, but gave no indication he would forcefully disarm the militant group. [AP]

Israeli security officials said it appeared to be a deliberate attempt to hit the Israeli. Palestinians said the driver had no political ties, and the roadblock was not a permanent fixture, indicating the hit and run was an accident.

Abbas has been under pressure from the United States and Israel to rein in armed groups, as called for in the internationally backed "road map" peace plan. While repeatedly calling on militants to halt their attacks on Israel, Abbas has refused to take action against them, preferring instead to negotiate.

Hamas has said it will take part in legislative elections set for July 17. It would be the first time the group has sought a place in the Palestinian parliament.

During a news conference at his office in Gaza, Abbas welcomed Hamas' desire to join the political process, but said the group, which has carried out dozens of suicide bombings against Israelis, would be expected to give up its militant activities after the vote.

"When a movement or militia is transformed into a political party, I would say that there will then be no need for them to possess weapons," Abbas told reporters. "There will be only one authority, one law, and one legal gun. The issue is very clear, and this has been common practice throughout history."

However, Hamas spokesman Sami Abu Zohri said the Islamic group would disarm only when Israel ends its occupation of the West Bank and Gaza, adding that Abbas was in no position to preach to Hamas since the Palestinian leader has yet to disarm the military wing of his own ruling Fatah party, the Al Aqsa Martyrs' Brigades.

"The resistance is tied to the end of the occupation and not with joining the Palestinian parliament," Abu Zohri said.

The "road map" peace plan calls on the Palestinians to dismantle militant groups like Hamas, while also requiring Israel to freeze settlement construction. Neither side has carried out its obligations and the plan has been stalled since its launch in mid-2003.

Israel has demanded tougher action by Abbas against the militants before resuming talks on the road map, which envisions the establishment of a Palestinian state.

Abbas, who was elected in January following the death of Yasser Arafat, said he has taken important steps toward improving security in the West Bank and Gaza Strip.

He has forged a cease-fire with Israel, leading to a sharp drop in violence. And over the weekend, he appointed three new security chiefs as part of an overhaul of the unwieldy Palestinian security services.

"The Palestinian side has exerted all its efforts in the last 100 days, and although there has not been a complete cessation of military activity, there has been a dramatic drop in it," Abbas said. "We, honestly, can't do the entire job in 100 days."

While insisting he still backs the road map, Israeli Prime Minister Ariel Sharon is pushing forward with his own plan to withdraw from the Gaza Strip and four West Bank settlements this summer. About 9,000 settlers will be uprooted.

Sharon has said the plan will help Israel maintain control over large blocs of West Bank settlements, where the vast majority of the 240,000 Jewish settlers live. Earlier this month, President Bush reiterated his stance that Israel will need to keep large settlement blocs in the West Bank under a final peace accord.

"There is talk from President Bush that these settlement blocs must remain with Israel and this kind of talk we absolutely reject," Abbas said. "When Mr. Bush speaks of a Palestinian state, viable and contiguous, I would like to ask, are these words in harmony with his stated position?" Abbas is expected to visit Washington in the coming weeks.




Today's Top News
Top World News

KMT leader: Taiwan needs to blaze new trails




Families grieve, 73 dead in Japan train crash




Economic growth expected to slow down




Olympic venues to be opened for public use




Draft interpretation under discussion




Indonesia now a strategic partner