KMT chief calls for new approach to mainland
(Agencies)
Updated: 2005-04-25 17:25
TAIPEI - Taiwan opposition leader Lien Chan said the island should adopt a fresh approach to relations with the mainland and turn its back on half a century of conflict.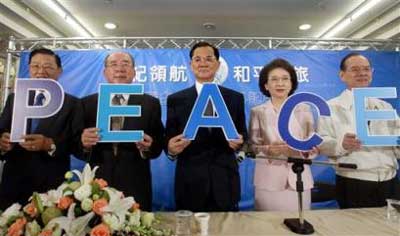 Taiwan opposition leader Lien Chan, center, and senior members of his Nationalist Party hold letters spelling 'peace' at a press conference Monday, April 25, 2005, at the party headquarters in Taipei, Taiwan. Lien will begin a historic visit to the mainland on Tuesday, in hopes of fostering a reconciliation between the mainland and Taiwan. [AP]

Speaking on the eve of his historic visit to the mainland, the leader of the Kuomintang (KMT) told reporters there would be no limits on what subjects he would discuss with Hu Jintao, general secretary of the Chinese Communist Party, during the trip.

"The Kuomintang and the Chinese Communist Party had severe conflicts in history that even led to a civil war. But now cross-strait exchanges should no longer be hampered by the mindset of civil war," Lien said.

"We must not continue to harbour the old mindset of the 1930s or 1950s."

Lien urged the two sides to reopen dialogue to settle disputes and bring peace to the strait area.

Lien is due to meet Hu on Friday during his eight-day "peace journey" which will take him to Nanjing, Beijing, his birthplace Xian and Shanghai.




Today's Top News
Top China News

Officials react angrily to US moves on yuan




China, Japan mend fences, pitfalls ahead




Chen 'okays' opposition leader's visit




EU ups textile pressure on China




Legislators examine motion on HK chief




Train derails in western Japan, killing 49