China, Japan mend fences, pitfalls ahead
(Agencies)
Updated: 2005-04-25 08:53
The leaders of China and Japan pulled their relations back from the brink at a weekend meeting, but analysts said bitter memories of Japan's wartime history and rivalry for influence will keep ties fragile.

Chinese President Hu Jintao and Japanese Prime Minister Junichiro Koizumi appear to have papered over their countries' worst row in three decades during talks in Jakarta Saturday, a day after Koizumi made an unusually public apology for Japan's past atrocities in Asia, Reuters reported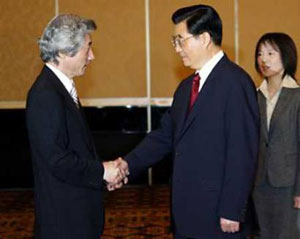 Japanese Prime Minister Junichiro Koizumi (L) and Chinese President Hu Jintao shake hands before the start of their meeting at the conclusion of the Asian-Africa leaders summit in Jakarta, April 23, 2005. The ice-breaking talks took place a day after Koizumi apologized for Japan's past atrocities in Asia. [AP]


"The leaders' summit went well, in that they were able to hold it. They avoided the worst-case scenario," said Kiyoshi Takai, a professor at Hokkaido University in northern Japan.

China: Match Words with Action

"But China is saying 'match words with action' and that means the discussions will again return to the Yasukuni issue. So what Prime Minister Koizumi decides about that is the key," he said, referring to the controversial war cemetery shrine in Tokyo.

Japan's Asahi Shimbun newspaper in an editorial added: "What seems to have happened is that a Band-Aid was applied to the wound to stop the bleeding. But the injury itself has not been treated at all. The risks are high that the wound will worsen and that it will open up again at some point."

During their one-hour meeting, held at the end of a gathering of Asian and African leaders in Jakarta, Hu told Koizumi that remorse expressed for Japan's wartime past should be translated into action. The Chinese leader said Japan should "never do anything again that would hurt the feelings of the Chinese people."

Hu also urged Japan not to support formal independence for Taiwan, which is part of China but remained split following the Chinese civil war in 1945-49.

Koizumi told a news conference that he and Hu agreed to make efforts to develop the bilateral friendship instead of aggravating antagonistic feelings. But he did not say if he would stop visiting the shrine which has been the source of much of the friction between the two Asian giants

Relations with China chilled markedly after Koizumi took office in 2001 and began annual visits to the shrine. He has not been invited to Beijing yet.
The Tie That Binds

Ties between the two plunged to their worst since relations were normalized in 1972 after three weekends of anti-Japanese protests across China, putting at risk economic links worth more than $200 billion in annual trade, including via Hong Kong and Macao.

The demonstrations were sparked by new Japanese school history textbooks that critics say sugarcoat Japan's wartime history and over other irritants, including Tokyo's campaign for a permanent seat on the U.N. Security Council.

The People's Daily, the mouthpiece of China's Communist Party, said Sunday it was understandable for students and the masses to want to express their emotions after Japanese right-wing forces had hurt their feelings.

But the newspaper added: "Patriotism requires strong emotions but even more, it requires reason. When expressing righteous indignation, the law should not be exceeded."

China launched a campaign to cool down tempers one day before Koizumi apologized.
Chinese police issued a strong warning on Thursday that those who took part in unauthorized protests would be punished and that it was illegal to use cell phone text messages or Internet bulletin boards to organize demonstrations without approval.

China also sent veteran diplomats to give lectures on the benefits as well as the history of Sino-Japanese ties to government officials and university students, who were urged to focus on their studies.

Asked about Chinese government comments that action was more important than words, Koizumi, speaking in Indonesia's tsunami-hit Aceh province Saturday, said: "In the last 60 years, we have became an economic superpower and not a military state. (We are now a) peaceful nation reflecting on the experience of the war."




Today's Top News
Top China News

Officials react angrily to US moves on yuan




China, Japan mend fences, pitfalls ahead




Chen ¡®okays¡¯ opposition leader's visit




Legislators examine motion on HK chief




Jurors to help decide court verdicts




Jilin coal mine flooding traps 69 men