Unspoiled mummies at Xinjiang site
(Xinhua)
Updated: 2005-04-25 08:43
Mummies unearthed in Xinjiang Uygur Autonomous Region in 2003 have been well-preserved, scientists said recently.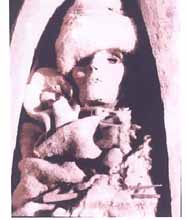 One of the mummies excavated at the Xiaohe Tomb Site in the Lop Nur Desert [baidu]

Excavated from the Xiaohe Tomb Complex in the Lop Nur Desert, Zhu Hong, director of the Frontier Archeology Study Department of Jilin University in Jilin Province, said: "The mummies were unbelievably well-preserved, even better than the mummies in Egypt. Even lice on the dead people's heads have been preserved."

Zhu participated in the excavation in 2003 and studied the mummies with two other experts this year between January 31 and February 12.

Archeologists unearthed 167 tombs at Xiaohe site, which sprawls over a 2,500-square-meter oval-shaped dune. About 174 kilometers away sit the ruins of the Loulan Kingdom, an ancient civilization that vanished 1,500 years ago.

The complex contained about 330 tombs. More than 160 were spoiled. Most objects found in the tombs remained untouched.

Idelisi Abuduresule, head of the Xinjiang Cultural Relics and Archeology Research Institute, said they will help studies on social culture and customs of that period.

The institute launched the excavation project in 2003 with the approval of the State Administration of Cultural Heritage.

The tomb complex yielded rare cultural relics including wooden objects, animal hair fabrics, jade, stoneware, as well as the fur and bones of animals such as sheep, cattle, fowl and lynx

It also yielded objects symbolic of genitals, suggesting a belief in phallicism. Few bronze ware pieces were unearthed. Zhu said bronze ware objects may have been too rare to be buried as funerary objects.

Most tombs had the same design, experts said. Ancient people dug sand pits, used coffins made of poplar wood and then erected carved wood pieces to indicate the dead person's gender, Zhu said.

Idelisi said more riddles will be studied. "Why were the tombs terraced? Why were the wooden posts cut into a variety of shapes from columns to prisms and what did people use for carving? Why didn't we find any traces of human life near such a massive burial site?" he asked.

Idelisi said the burial style is unique and solving its mysteries will likely involve the research efforts of not only archeologists and historians, but also anthropologists, religion experts and environment researchers.

Experts believe the tomb complex might belong to the Bronze Age and are attempting to determine the date of the tombs through tree-ring analysis of coffins and chronometry on soil samples from the tombs.

The massive burial site was first discovered in 1934 by Swedish explorer Folke Bergman. His archeological diary helped Chinese researchers spot the site at the end of 2000, when the diary was published in Chinese.




| | |
| --- | --- |
| | |
| Lin Chih-ling injured in horse fall | |

| | |
| --- | --- |
| | |
| Jolie adopts Ethiopian AIDS orphan | |

| | |
| --- | --- |
| | |
| Colourful bellies; Vogue moms | |
Today's Top News
Top Life News

CNOOC's bid for Unocal tests US' China ties




US to be prudent on textile safeguards




65 miners killed in Xinjiang gas explosion




Wal-Mart, Gap look to India as yuan may rise




UN official highlights racism in Japan




Goldman, Allianz seek big stakes in ICBC