Abbas asserts control over security services with revamp
(Agencies)
Updated: 2005-04-24 20:12
Palestinian leader Mahmud Abbas moved to stamp his authority on the security services after a sweeping revamp of the top brass which saw key allies of the late Yasser Arafat pushed upstairs.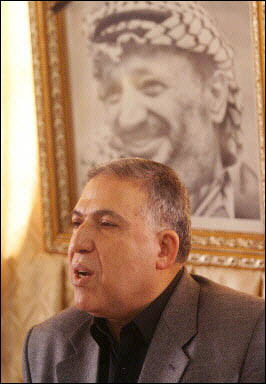 Newly-appointed Palestinian Police Chief General Husni Rabaya in Gaza City. Palestinian leader Mahmud Abbas moved to stamp his authority on the security services after a sweeping revamp of the top brass which saw key allies of the late Yasser Arafat pushed upstairs. [AFP]


Abbas was to travel to Gaza City Sunday to attend "retirement ceremonies" for 10 senior security officials whose places in a new streamlined security network are to be taken by younger men, untainted by accusations of corruption.

Among those who have been relieved of their duties as part of the reshuffle announced late Saturday was Musa Arafat, a cousin of Arafat, who was head of national security in Gaza.

Another member of the old guard, General Amin al-Hindi, was standing down as head of military intelligence in the West Bank and Gaza Strip.

Like Musa Arafat, Hindi is being given the title of military advisor to Abbas in a sign of the Palestinian Authority president's desire to avoid making unnecessary enemies.

Abbas issued a presidential decree earlier this month to reduce the number of security services from around a dozen to just three, a reform which Arafat had long spoken of but failed to implement before his death in November.

But Abbas, under pressure from the United States to deliver on his pledges of reform, finally sounded the death knell for the old guard by announcing the names of the three new heads of services.

The post of head of national security in the West Bank and Gaza went to General Suleiman Helef, while General Ahmed Abdel Karim was confirmed as military intelligence chief and General Husni Rabaya was named new national police chief.

Mandur Nawfal, a political analyst and one-time advisor to Arafat, said pressure from the Americans for security reform was instrumental in Abbas's decision.

Washington's newly-appointed security pointman for the region, General William Ward, has been holding regular talks with Abbas in recent weeks.

Abbas himself is hoping to hold talks in the White House in the next few weeks where he hopes to secure both financial support and political pressure from US President George W. Bush on Israel.

"Of course, even though these measures are an internal issue, we can also say that they have been taken in accordance with international suggestions," said Nawfal.

"This will help Abu Mazen (Abbas) in his talks with Bush. He will be able to tell Bush that I have done my duty and I need now to show my people that I can get results on the economic and political side."

Jibril Rajub, Abbas's national security advisor, said the appointments would be accompanied by legislation to reform the security services.

"The process of uniting the security services will continue through the adoption of new laws that will regulate the work and missions of these services and the relationship between them and the people," he told AFP.

Rajub, a security strongman from the Arafat era but who has managed to survive and flourish under Abbas, said he did not expect any of those who were being pushed aside would protest their fate.

"This measure was taken swiftly and all those who laid off accepted the decision," he added.

Israelis meanwhile were marking the beginning of the week-long Jewish holiday of Passover amid tight security.

The West Bank has been sealed off by the Israeli authorities for the whole of the week-long holiday period. Security forces were also on high alert for a possible attack in the centre of the country, where police set up roadblocks at entrances to major cities as well as along the main highways.

Three years ago, Palestinian militants pulled off the most deadly attack of the intifada when a suicide bomber blew himself up during a Passover meal at a hotel in the northern coastal city of Netanya, killing 30 people.




Today's Top News
Top World News

China initiates five proposals on ties with Japan




Asia, Africa build new strategic partnership




69 miners trapped in coalmine flooding




Boycotting Japanese goods makes no good




HK jewellery tycoon nabbed on corruption




Jia: Building harmonious, prosperous Asia