Acting CE Tsang briefs Jia on Hong Kong
By Tony Chan (China Daily)
Updated: 2005-04-23 00:17
Hong Kong has continued on an upward curve, despite the question mark hanging over its leadership.
So said the Special Autonomous Region's (SAR) Acting Chief Executive Donald Tsang after a brief meeting with Chinese People's Political Consultative Conference (CPPCC) chairman Jia Qinglin on the eve of the official opening of the Boao Forum.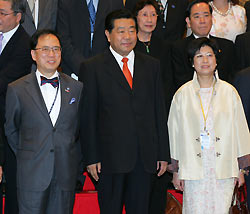 Acting HongKong Chief Executive Donald Tsang [L] and Jia Qinglin, Chairman of Chinese People Political Consultatitive Conference, pose for photography in Boao, South China's Hainan Province, Aprial 22, 2005. [newsphoto]

"Chairman Jia is very happy about what is happening in Hong Kong. He reassured me the nation is totally committed to 'one country, two systems,' and was very enthusiastic and confident that Hong Kong will continue to prosper," Tsang quoted Jia as saying after yesterday's meeting.

Tsang said he briefed Jia on the latest situation in Hong Kong, reporting that social, political and economic conditions in the SAR have continued to improve since Tung Chee-hwa resigned as the chief executive about a month ago.

At the start of the meeting, Jia declined to comment on questions from the press asking if he would support any bid by Tsang to become the new chief executive, saying it was too early to comment as nominations had not yet been submitted.

The CPPCC chairman, however, gave the acting chief executive high marks. "Very good," he replied when a reporter asked for his opinion on Tsang's performance so far.

Earlier outside a seminar on China's Peaceful Rise and the New Role of Asia, National People's Congress Vice-Chairman Lu Yongxiang said the NPC Standing Committee would meet today, with interpretation of the Basic Law in relation to the term of Hong Kong's new chief executive among the items on the agenda.

Lu said the interpretation was fully in accordance with the law, and that the act would not affect Hong Kong's rule of law although some people were opposed to it.

Under the microscope is Article 53 of the Basic Law, concerning the term of office of the new chief executive. The article says a new chief executive should be elected within six months of the chief executive's office becoming vacant midway through a term.

Local opinions are divided on whether the successor should serve just the remainder of their predecessor's term or for a full five-year period.




Today's Top News
Top China News

Trade minister warns against damage of goods boycott




Koizumi expresses 'heartfelt apology'




Hu urges Asia-Africa strategic partnership




Acting CE Tsang briefs Jia on Hong Kong




NPC solicits views on law interpretation




Tall or short, workers honoured