Koizumi expresses 'heartfelt apology'
(China Daily)
Updated: 2005-04-23 00:17
Japanese Prime Minister Junichiro Koizumi has expressed "deep remorse and heartfelt apology" for his country's wartime acts.
The move came yesterday as Koizumi addressed leaders at the Asia-Africa summit.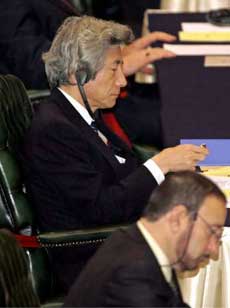 Japanese Prime Minister Junichiro Koizumi (L) attends the opening of the Asian-African leaders Summit in Jakarta April 22, 2005. Koizumi apologised on April 22 for the 'tremendous damage and suffering' caused by Japan's wartime past in an apparent effort to help douse a flaming row with China. Koizumi made the apology during a speech at a multilateral summit in Jakarta in front of leaders from 100 Asian and African countries including Chinese President Hu Jintao, whom he is likely to meet in the coming days. [Reuters]

"In the past Japan through its colonial rule and aggression caused tremendous damage and suffering for the people of many countries, particularly those of Asian nations," he said.

Responding to Koizumi's apology, Chinese Foreign Minister Li Zhaoxing urged the Japanese Government to take history as a mirror and look forward to the future.

However, even as the prime minister was making his "heartfelt apology," around 80 Japanese lawmakers were visiting the Yasukuni Shrine in Tokyo that honours executed World War II war criminals on the same day.

The Chinese Foreign Ministry expressed strong dissatisfaction with the visit. "China has already expressed its clear position over (visits to)the Yasukuni Shrine,'' the ministry said in a statement.

"Given the current serious nature of China-Japan relations, we strongly express our dissatisfaction that some Japanese politicians ignored the interests of both countries and took such a negative move.''

Experts said Koizumi's remarks were not "a new apology," and were based on a speech made in 1995 by Tomiichi Murayama, Japan's prime minister then, marking the 50th anniversary of the end of World War II.

Jin Xide, a professor with the Japan research institute under Chinese Academy of Social Sciences, said Japan differed drastically with its neighbouring countries in the sight of the past.

"Japan still treats itself as a victim rather than a perpetrator of history. This has strained relations between Japan and its neighbors and intensified some conflicts," Jin said.




Today's Top News
Top China News

Minister warns against damage of boycott




Koizumi expresses 'heartfelt apology'




Hu urges Asia-Africa strategic partnership




Tsang briefs Jia on HongKong




Nation at forefront of global DNA project




Tall or short, workers honoured