Koizumi voices apology for Japan's wartime record
(Agencies)
Updated: 2005-04-22 14:39
Japanese Prime Minister Junichiro Koizumi voiced an apology on April 22 for Japan's wartime record, speaking at an Asia-Africa summit in Indonesia.

Japan "squarely" acknowledged the damage and suffering caused by colonial aggression across Asia with "deep remorse", Koizumi told the conference in Jakarta attended by Chinese President Hu Jintao.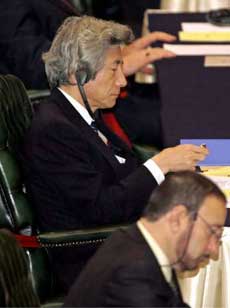 Japanese Prime Minister Junichiro Koizumi (L) attends the opening of the Asian-African leaders Summit in Jakarta April 22, 2005. Koizumi apologised on April 22 for the 'tremendous damage and suffering' caused by Japan's wartime past in an apparent effort to help douse a flaming row with China. Koizumi made the apology during a speech at a multilateral summit in Jakarta in front of leaders from 100 Asian and African countries including Chinese President Hu Jintao, whom he is likely to meet in the coming days. [Reuters]

"In the past, Japan, through its colonial rule and aggression, caused tremendous damage and suffering to the people of many countries, particularly to those of Asian nations," Koizumi said.

"Japan squarely faces these facts of history in a spirit of humility. And with feelings of deep remorse and heartfelt apology always engraved in mind, Japan has resolutely maintained, consistently since the end of World War II, never turning into a military power but an economic power," he said.

Koizumi, who hoped to meet Hu during the summit, added that his country was guided by the "principle of resolving all matters by peaceful means, without recourse to use of force."

Sino-Japanese relations were at one of their lowest ebbs in decades after three weekends of protests by tens of thousands in China against Japan's approval of a school textbook that critics say whitewashes Japan's wartime atrocities.

In those demonstrations, people hurled bottles, eggs and rocks at Japan's diplomatic and business interests in China while calling for the boycott of Japanese products.
Tokyo has demanded Beijing's apology and compensation for damage caused by the protests but China rejected Japan's demands, saying the real issue was Japan's alleged denial of its wartime past.

Japan's post-war constitution, written by the United States, not only renounces war but forbids Tokyo from maintaining a military or even threatening the use of force.
However, Japan maintains what it calls a Self-Defense Forces and Koizumi, a staunch ally of US President Gerge W. Bush, dispatched 600 Self-Defense troops on a non-combat mission in southern Iraq .

The deployment which began in December 2003 is Japan's first since World War II in a country where fighting is under way.

But Koizumi has enraged China with his annual visits to Tokyo's Yasukuni Shrine, which venerates 2.5 million war dead including major war criminals.

Since taking office in April 2001, the prime minister never missed the annual pilgrimage to the shrine, which China says is the core problem to a normal Sino-Japanese relations.

China hasní»t invited Koizumi to visit Beijing since his coming into office.


Today's Top News
Top World News

Koizumi voices apology for Japan's wartime record




China announces US$15b bank overhaul plan




Hu-Koizumi meeting hangs in the balance




People urged to shun unauthorized marches




China, France ink deals worth US$4b




Emerging Asia looking for bigger role



Story Tools


Advertisement