Russia, U.S. clash over Belarus 'dictator'
(Agencies)
Updated: 2005-04-22 09:02
Russia and the United States clashed over Belarus on Thursday as Moscow's foreign minister rebuffed a call by the US Secretary of State for change in what she branded central Europe's "last true dictatorship."
"I think the democratic process and the process of reform cannot be imposed from outside," Sergei Lavrov said of Belarus at a news conference in the Lithuanian capital during a meeting between NATO and Russia.
"We would not of course advocate what some people call "regime change" anywhere," he said, reacting to Secretary of State Condoleezza Rice's remark on Wednesday that Belarussian President Alexander Lukashenko ran "the last true dictatorship in the center of Europe," and that it was time for change.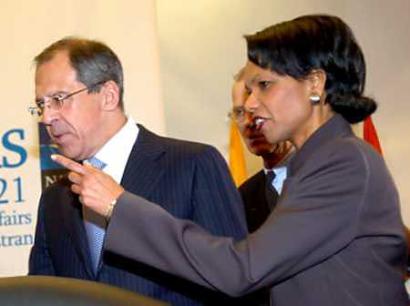 Russian Foreign Affairs minister Sergei Lavrov(L) and U.S. Secretary of State Condoleezza Rice meet in Vilnius April 21, 2005, where the informal NATO meeting of foreign ministers continues. Russia and the United States clashed on Belarus on Thursday as Lavrov rebuffed a call by Rice for change in what she branded central Europe's 'last true dictatorship.'[Reuters]

But Rice insisted the United States had a role to play in bringing democracy to former Soviet Belarus, and urged the world to monitor closely presidential elections there in 2006.

"The 2006 elections really do present an excellent opportunity for the international community to focus on the need for free and fair elections in Belarus," she told a news conference after Lavrov had made his comments.

"Elections have been an important catalyst in any number of countries now around the world," she added. In the former Soviet Union alone, governments have been thrown out after rigging polls in Georgia, Ukraine and Kyrgyzstan in recent months.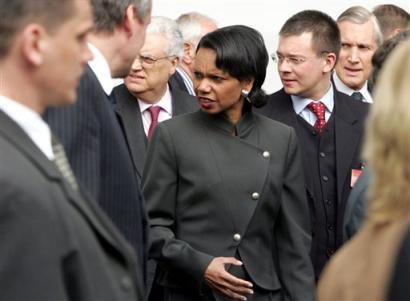 U.S. Secretary of State Condoleeza Rice, center, walks with other NATO foreign ministers prior to a group photo at the Presidential Palace in Vilnius, Thursday April 21, 2005. NATO foreign ministers on Thursday stressed the need to support peace efforts, in particular the Israeli withdrawal from the Gaza strip, but they insisted talking about the Middle East did not signify NATO was preparing for a military engagement in the region. Standing to the left of Rice is Hungarian Foreign Minister Ferenc Somogyi.[AP]

She said Washington would not intervene directly in Belarus to force change but could and should "shine a spotlight on places where people are still denied freedom."

"We can put that on the international agenda. We can insist on certain standards of behavior by any government, any place in the world, including standards of behavior when it comes to the holding of elections," she said.

Rice earlier met Belarussian opposition leaders to show support for democracy groups despite Russian concerns that Washington was interfering in its "near abroad."

"DISAPPEARED"

The opposition leaders, among them the wife of a journalist who "disappeared" and the head of a university that has been closed, told a Vilnius news conference they wanted to hold mass street protests and would boycott the 2006 elections they believed Lukashenko would rig.

EU foreign policy chief Javier Solana agreed with Rice's call for change. "There is no doubt that the time has come for change, I have said that many, many, many years ago," he told reporters.

The opposition leaders said Rice and Solana's stand had encouraged them to create a nationwide, unified movement behind a single opposition figure and publicize abroad the issue of prominent opponents of the president who had disappeared.

"We do not intend to be playing in elections. We intend to present an alternative and initiate massive pressure for change," Aleksander Dobrovolskiy, a leader of the opposition United Civic Party, told the news conference.

Some commentators have suggested Belarus, run by Lukashenko since 1994, may be the next ex-Soviet state in line for change.

Lukashenko, accused abroad of crushing opponents and the media, has warned the West against stirring up trouble in the country of 10 million people wedged between Russia and EU members Poland, Latvia and Lithuania.

He has vowed to thwart any efforts at revolution.

A senior Belarussian official dismissed Rice's intervention in the debate.

"The Belarussian people choose the authorities and the Belarussian people determine their fate and future, not the Secretary of State Condoleezza Rice," Deputy Foreign Minister Viktor Gaisenok said. "We are are not pieces in somebody else's game. Nor are we pawns on a chessboard."

Lavrov, who was speaking in English, carefully chose the phrase "regime change" to echo the term Washington used of Iraq. Moscow aligned itself with Paris and Berlin in opposing the U.S. aim of invading Iraq to bring about "regime change" in Baghdad.




Today's Top News
Top World News

China, France ink Airbus, other deals worth US$4b




Hu-Koizumi meeting hangs in the balance




People urged to shun unauthorized marches




Emerging Asia looking for bigger role




Chrysler compacts to be made in China for US




Tougher policies for real estate development