Poor stress relief among office workers
(eastday.com)
Updated: 2005-04-22 08:58
Though suffering from occupational-related health problems, most office workers do not know how to relieve stress properly, a survey concluded.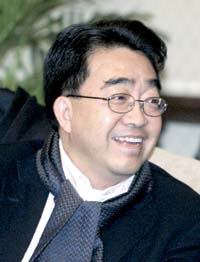 Chen Yifei died at 59 of liver disease caused by fatigue. [baidu]

The survey, conducted by Zhaopin.com, one of the country's leading Web-based headhunters, was in response to famous artist Chen Yifei's sudden death this month.

It asked 1,457 office workers, via the Internet, about their health and stress relief.

Chen, 59, died in the city on April 10 of liver disease caused by fatigue.

According to the survey, more than 90 percent of respondents said they were plagued with health problems due to long overtime hours.

Myopia topped the list, affecting 27 percent of respondents.

Other health problems such as nervousness, cervical spondylosis, insomnia and stomachache are also common.

"Fierce competition and heavy work demands in modern society keep pushing me to devote myself to work harder every day," said Michael Shen, a sales manager. "I don't have too much time to take care of my health."

Yu Xia, an analyst at Zhaopin, said Chen's death alerted office workers, who tend to neglect nagging health concerns.

However, the relaxation methods most office workers adopt nowadays are improper to ease fatigue. Some will even lead to a further deterioration of health.

The survey indicated about 35 percent will take a nap at their desk during the lunch break. Another 27 percent of respondents considered chatting with colleagues a good lunch activity.

A nap after lunch, especially those who sleep by bending over the desk, can lead to neck and spine problems, said Sun Yimin, a doctor at Huashan Hospital.

About 41 percent of those polled said they surf the Internet, watch DVDs or sing at karaoke bars in their spare time to relieve stress.

"Those entertainment activities tend to add an extra burden to one's exhausted body even though they can help people get away from work," said Sun.




| | |
| --- | --- |
| | |
| Miss Tourism Queen International 2005 China finals | |

| | |
| --- | --- |
| | |
| Paris Hilton launches perfume | |

| | |
| --- | --- |
| | |
| Time's 100 most influential people gather in NY | |
Today's Top News
Top Life News

China, France ink Airbus, other deals worth US$4b




Hu-Koizumi meeting hangs in the balance




People urged to shun unauthorized marches




Emerging Asia looking for bigger role




Chrysler compacts to be made in China for US




Tougher policies for real estate development