Israeli minister OKs Gaza pullout delay
(Agencies)
Updated: 2005-04-22 08:53

Israel's defense minister on Thursday recommended briefly delaying Israel's planned withdrawal from the Gaza Strip, the strongest indication yet that the summer pullout will be pushed back.

The recommendation by Shaul Mofaz, which is expected to win government approval, came as Israel and the Palestinians held their first talks on coordinating the pullout. Prime Minister Ariel Sharon insisted that despite the delay and strident settler opposition, the evacuation would be carried out.

The Haaretz daily reported late Thursday that Sharon will approve the delay, quoting an unnamed official in his office.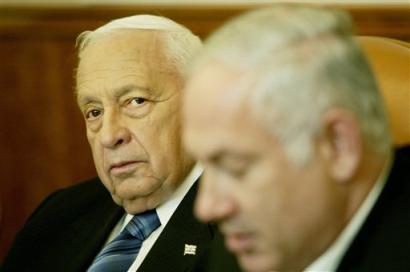 Israeli Prime Minister Ariel Sharon, pictured during a meeting at his office in Jerusalem,Thursday, April 21, 2005. Meanwhile, a proposal to delay the Gaza withdrawal gained momentum after Defense Minister Shaul Mofaz recommended that the operation be postponed by three weeks, until August 15. At right is Israeli finance minister Benjamin Netanyahu. [AP]

Mofaz met with top Israeli security officials, including army and police commanders, to discuss a proposal to delay the pullout by three weeks, until Aug. 15. The Defense Ministry said Mofaz agreed to the delay, sending the matter to a ministerial committee headed by Sharon.

The issue is ostensibly religious. The July 25 start date of the forced evacuation of settlers falls within a three-week mourning period leading up to Tisha B'Av on Aug. 14, when Jews mark the destruction of the biblical temples. Mofaz decided to take into account the feelings of settlers, most of whom are Orthodox Jews.

Officials denied reports that another reason for the delay was to give the government more time to prepare. Lack of settler cooperation has made it difficult for the government to decide where the settlers will move, officials say.

Sharon has indicated he would support the delay but wanted to get approval from his security chiefs.

"The disengagement will be carried out," Sharon told Israel Army Radio. "Whoever thinks this will open the way to delays or not implementing (the evacuation) or other pressures is simply wrong."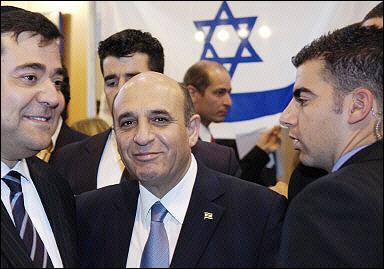 Israeli Defense Minister Shaul Mofaz (C) arrives at a pro-Israeli rally, April 17, 2005 in Paris. Defence chiefs recommended that Israel's planned withdrawal from the Gaza Strip be delayed until mid-August, public radio reported. [AFP/File]

Israeli commanders in Gaza have noted a recent increase in Palestinian attacks, and said the two-month truce might be in jeopardy. Sharon has said repeatedly that the evacuation must not be carried out under fire.

On Thursday, an Israeli jeep patrolling the Gaza-Israel border was hit by a rocket-propelled grenade fired from Gaza, seriously wounding a soldier, the military said. And in central Gaza, a riot erupted after Israeli soldiers closed a road, witnesses said. One Palestinian was wounded by Israeli gunfire, they said.

However, a flurry of meetings between Israelis and Palestinians marked the tentative beginning of coordination of the withdrawal.

Sharon first presented the evacuation of all 21 settlements from Gaza and four from the West Bank as a unilateral move, reflecting his unwillingness to negotiate with Yasser Arafat. With Arafat's death last year and the succession of Palestinian President Mahmoud Abbas, the possibility of coordination has emerged.

Mofaz met with Palestinian Cabinet minister Mohammed Dahlan Thursday evening, Israeli security officials said, after Palestinian Prime Minister Ahmed Qureia saw Israeli Vice Premier Shimon Peres and Palestinian negotiator Saeb Erekat met with Sharon aide Dov Weisglass.

Erekat said he talked to Weisglass about setting up a meeting between Sharon and Abbas, but no date was set. They have not met since a Feb. 8 summit in Egypt, where they declared an end to more than four years of violence.

Israeli diplomatic officials said the Qureia-Peres meeting focused on economic and security issues related to the Israeli pullout.

The Palestinians are seeking assurances the withdrawal will be the first step in implementing the "road map," an internationally backed peace plan that calls for establishment of an independent Palestinian state.

"What we want to ensure, the Gaza disengagement and north West Bank disengagement will not be first and last (step)," Erekat said.




Today's Top News
Top World News

China, France ink Airbus, other deals worth US$4b




Hu-Koizumi meeting hangs in the balance




People urged to shun unauthorized marches




Emerging Asia looking for bigger role




Tougher policies for real estate development




Hu calls for common development in Jakarta