Chrysler compacts to be made in China for US
(Agencies)
Updated: 2005-04-22 08:52
DaimlerChrysler hopes to make compact cars in China for sale in the United States, a company executive said Thursday.
The company's China chief, Ruediger Grube, said the compact would be a "totally new" car and wouldn't affect production of current DaimlerChrysler, Jeep or Dodge vehicles in the United States. Grube said China's low labor costs figured heavily in the decision.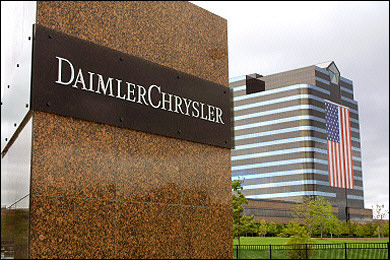 This 2001 photo shows the Chrysler Group headquarters in Auburn Hills, Michigan.[AFP]
DaimlerChrysler, the world's fifth-largest automaker, is looking at producing the cars in southern China in a joint venture with Fujian Motor Industry Corp. Grube declined to say more about the new vehicle, saying the company is still hashing out details with its Chinese partner.
"China today has a big, big, big advantage insofar as labor costs are concerned," Grube said. While German auto workers earn an average of 38 euros an hour ($49.78) in wages and benefits, and U.S. auto workers earn 28 euros an hour ($36.68), "the same worker in China gets 1.5 euros," or about $1.96 per hour, he said.
Global automakers are pouring tens of billions of dollars into their Chinese plants, creating a glut of manufacturing capacity in the world's fastest-growing automotive market. Auto analysts say overcapacity and low labor costs are among the reasons automakers want to build vehicles here for export around the world.
"One potential scenario has it that China will, more quickly than anyone can imagine, turn into an export base for cars globally," said Michael J. Dunne of Automotive Resources Asia, a consultancy with offices in Bangkok, Thailand, and Shanghai.
As China's most important annual automotive show opened in Shanghai, several global auto executives said they're studying many factors - including quality control - to see if their China plants can make vehicles for export. Honda and Nissan, two Japanese auto companies, are gearing up - or already beginning - to export vehicles from China.
Honda last fall began producing a small four-door sedan and hatchback at its Guangzhou factory in southern China and plans to ship about 10,000 this year for sale in Europe as the Honda Jazz, said Masaya Nagai, a spokesman for Honda Motor of China.
"This is the first experience for us to export vehicles from China," Nagai said.
Nissan is already selling low-cost light commercial trucks made in China to markets in South Asia, Africa and the Philippines, said Katsumi Nakamura, the Japanese president of Dongfeng Motor, a joint venture partner with Nissan.
"Chinese truck prices are, I think, one-third or one-half of the global price," Nakamura said.
Major U.S. automakers General Motors and Ford said they have no immediate plans to make vehicles in China for the U.S. market.
"Up until recent times, it was everything we could do just to satisfy the demand that existed in the Chinese market. This time last year, demand was exceedingly high," Troy A. Clarke, president of GM Asia Pacific, told an automotive conference earlier this week.
Labor and factory costs are 10 percent to 25 percent of the total production costs of a vehicle. Other costs include raw materials, research and design, training and building large plants, executives said. Shipping cars across oceans adds transportation costs that can easily total $900 a vehicle, they added.
Grube, the DaimlerChrysler chief in China, declined to say how many of the compacts the company wants to make in China.
But automakers producing compacts normally do so in great numbers because of the low profit margins on inexpensive vehicles.
Chrysler, formerly one of the three major automakers in the United States, merged with Daimler-Benz in 1998.
Later this year, DaimlerChrysler will begin producing Mercedes Benz C-Class and E-Class automobiles in China, but Grube said the company doesn't intend to sell those high-end sedans outside China.
One U.S. entrepreneur is betting that cars with "Made in China" stickers won't meet resistance from U.S. consumers due to poor quality.
Malcolm Bricklin, who heads Visionary Vehicles, said he plans to import 250,000 sedans and sport-utility vehicles a year from China, beginning in 2007, for sale in the United States. Chery Motor Co., an 8-year-old firm in Wuhu, will make the cars. Bricklin said the vehicles would be comparable to BMWs and other high-end brands, but 40 percent less expensive.
"Everybody knows that China is coming and that China is going to be the price leader in whatever it gets into," said Bricklin, who once brought low-cost Yugos and Subarus into the United States.
Today's Top News
Top China News

China, France ink Airbus, other deals worth US$4b




Hu-Koizumi meeting hangs in the balance




People urged to shun unauthorized marches




Emerging Asia looking for bigger role




Chrysler compacts to be made in China for US




Tougher policies for real estate development