Four die as Saudi forces, militants clash in Mecca
(Agencies)
Updated: 2005-04-22 08:42
Two suspected militants and two Saudi security personnel were killed in a fierce gunfight Thursday in the Muslim holy city of Mecca, the Interior Ministry said.
The shootout took place after a car carrying suspects, some disguised as women, failed to stop at a checkpoint on the road outside between Mecca, the ministry said.
The clash coincided with local elections in Mecca and nearby areas, part of limited reforms in the conservative kingdom.
Another four security force members were wounded and two militants were arrested in the clash. It was the latest confrontation in a two-year campaign of violence by al Qaeda supporters in the world's biggest oil exporter.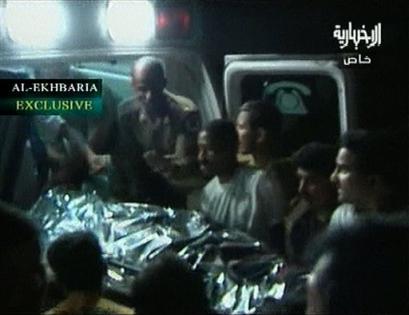 A body is placed in an ambulance in Mecca, Saudi Arabia, Thursday, April 21, 2005 after Islamic militants clashed with Saudi security forces in Islam's holiest city in a gunbattle that killed two militants and two policemen on a day Saudis were going to the polls in the latest round of municipal elections.[AP]

The ministry statement said police arrested the driver of the car at the checkpoint and chased the other three when they sped away into Mecca. The suspects were described as wanted members of the "deviant group," a reference to al Qaeda.

Residents of Mecca's eastern Umm al-Joud neighborhood said the three militants then apparently set an ambush for security forces, leaving a Kalashnikov rifle in the street to attract attention and then opening fire when the forces arrived.

The residents said they heard heavy gunfire and saw a helicopter flying overhead and ambulances rushing to the area.

The suspects, who one officer said were armed with a machine gun, set at least one police car ablaze in the shooting. A Reuters reporter saw one car burned out and another partly burned.

PARTIAL ELECTIONS

The incident occurred on the same day that voters in Mecca and other areas of western and northern Saudi Arabia voted in partial elections for local councils, part of the absolute monarchy's program of cautious political reform.

Saudi Arabia, birthplace of Osama bin Laden and most of the September 11 hijackers who attacked the United States, has come under pressure from Washington to change.

It has also been battling militants loyal to bin Laden's al Qaeda network, who have staged several bloody attacks on foreign residents, government sites and energy-industry installations in the last two years.

Earlier this month security forces killed 15 suspected Islamic militants in the central Qassim province in the longest and bloodiest confrontation between government forces and al Qaeda supporters since the outbreak of violence in May 2003.

Officials say at least 90 civilians and 41 members of the security forces have been killed in the last two years and militant attacks have caused at least 1 billion riyals ($270 million) worth of damage. Police have killed more than 100 militants in the same period.




Today's Top News
Top World News

China, France ink Airbus, other deals worth US$4b




Hu-Koizumi meeting hangs in the balance




People urged to shun unauthorized marches




Emerging Asia looking for bigger role




Tougher policies for real estate development




Hu calls for common development in Jakarta