Hu calls for common development in Jakarta
By Qin Jize (China Daily)
Updated: 2005-04-21 23:53
JAKARTA: Visiting President Hu Jintao yesterday called on the Asian-African countries to seize opportunities and strengthen co-operation to cope with challenges and seek common development.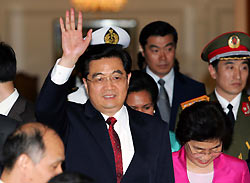 President Hu Jintao waves during his arrival at Halim airport in Jakarta April 21, 2005. [Reuters]
Hu made the remark yesterday evening at the official dinner reception of this year's Asian-African Business Summit shortly after his arrival in Indonesia.Hu is visiting the Southeast Asian country to attend the Asia-Africa Summit, which starts today.
At a time when Asian and African countries are discussing the establishment of a new-type of strategic partnership, Hu said: "More dialogue and exchanges among their businesses communities will definitely add new life to closer Asian-African co-operation."
He suggested that the aims of the summit could be achieved by focusing on three aspects: proceeding from the respective national conditions while mapping out plans for development, carrying out mutually beneficial co-operation in all fields on an equal footing and working together to create an environment favourable to international development with win-win co-operation.
Hu said that for a long time, China's development has benefited from the support of developing countries and China takes the strengthening of its friendship and co-operation with developing countries as the cornerstone of its foreign policy.
In 2004, trade between China and Asian and African countries reached US$463 billion, up 35.5 per cent year on year.
The president said that China has provided preferential tariff treatment to a number of less developed countries and relieved or exempted 172 items of debt from 38 countries with a total value of 13.78 billion yuan (US$1.7 billion).
Hu said that along with its development, China will expand and deepen its mutually beneficial co-operation with Asian and African countries and increase its assistance to the underdeveloped countries in Asia and Africa.
" China cannot develop in isolation and the world needs China to achieve global prosperity," Hu said.
Prior to flying to Jakarta, the Chinese president visited in Brunei, an oil-rich Islamic sultanate, for a 25-hour tour.
At the luncheon held by the Bruneian business community yesterday, Hu said China would continue to encourage competitive Chinese enterprises to participate in Brunei's infrastructure development including the petrochemical industry, port facilities and telecommunications.
He said China enjoys advantages in human resources, market and technology, while Brunei boasts abundant capital and rich resources of oil and gas. "Such mutually supportive economic factors offer great prospects for bilateral co-operation and trade," Hu said.
He said sustained economic and social development in China had presented enormous business opportunities to the Association of Southeast Asian Nations(ASEAN), including Brunei.
China-ASEAN trade topped US$100 billion last year after years of rapid growth.

(China Daily 04/22/2005 page3)

Today's Top News
Top China News

China, France ink Airbus, other deals worth US$4b




Hu-Koizumi meeting hangs in the balance




People urged to shun unauthorized marches




Emerging Asia looking for bigger role




Tougher policies for real estate development




Hu calls for common development in Jakarta