France calls China arms ban 'anachronistic'
(Agencies)
Updated: 2005-04-21 11:18
French Prime Minister Jean-Pierre Raffarin called the EU arms embargo against China "anachronistic" and "discriminatory", indicating it should be lifted by the end of June as planned.
In Beijing for a three-day visit, Raffarin told the Xinhua news agency China was becoming a "responsible, great nation" and the arms ban in place was outdated.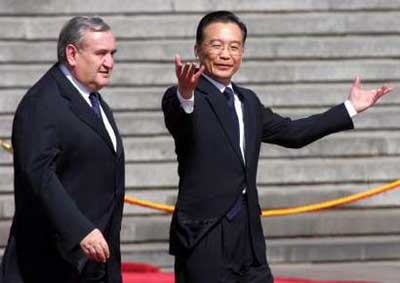 Chinese Premier Wen Jiabao gestures during a welcome ceremony for French Prime Minister Jean-Pierre Raffarin (L) at the Great Hall of the People in Beijing April 21, 2005. Raffarin is on a three-day visit to China. [Reuters]

"This measure is anachronistic, wrongfully discriminatory and in complete contradiction of the current state of the strategic partnership between Europe and China," he said, according to a transcript seen by AFP.

"France believes that the transition in progress will leave China even stronger and responsible, a great nation respected and at peace with its neighbors, a new focus of stability on the international scene," he said.

The timing of the ban's lifting is in doubt because of current difficulties in Beijing's relations with Taiwan and Japan, although EU foreign policy chief Javier Solana said this week the bloc remains committed to its removal.

Last December EU heads of government authorised the government of Luxembourg -- which holds the bloc's rotating presidency -- to finalise terms for removing the sanctions in the first half of 2005.

France has been a prime supporter of ending the ban, but the move is opposed by the United States and Japan, which fear a tilting of the strategic balance in Asia.

"Europeans have only one 'roadmap' and that was fixed by the European Council in December 16-17, 2004 for a decision by the end of the first half of 2005," said Raffarin.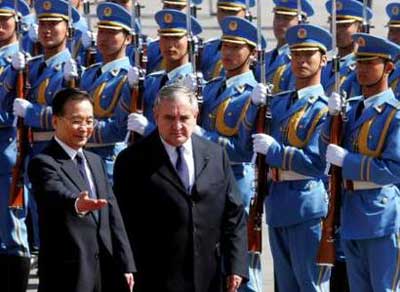 Chinese Premier Wen Jiabao (L) and French Prime Minister Jean-Pierre Raffarin walk past guard of honor during a welcome ceremony at the Great Hall of the People in Beijing April 21, 2005. Raffarin is on a three-day visit to China. [Reuters]

"It is to be taken between Europeans, and the discussions continue," he added, saying efforts were being made to "reassure" the United States.

Boosting Relations

Raffarin's visit is primarily aimed at boosting political and economic relations and Raffarin will hold talks with Premier Wen Jiabao and Vice-President Zeng Qinghong and sign a series of bilateral accords, French officials said.

Before departing for Beijing, Raffarin also made clear that he was here "to sell Airbus in China".

"I'm going to sell Airbus with the backing of the Germans. We are working together for Europe," Raffarin told private French radio RTL.

China is expected to become the second-biggest aviation market, after the United States, over the next 20 years, with an estimated 2,800 aircraft.

Air China said in February it was negotiating the lease of two A380 superjumbo airliners to serve the Beijing Olympics.

In January, China Southern Airlines confirmed an order for five Airbus A380s, making it the first Chinese carrier to purchase the A380 aircraft.

Airbus is owned 80 percent by European Aeronautic Defence and Space Company (EADS) and 20 percent by British group BAE Systems.

Raffarin is accompanied by five ministers and secretaries of state and executives from companies inclusing Areva, Alstom and Airbus.

During his stay, Raffarin will also visit Shanghai and the northeastern industrial city of Shenyang, officials said.




Today's Top News
Top China News

China's economy expands 9.5% in first quarter




Japan asking for informal summit with China




France calls China arms ban 'anachronistic'




President's first leg of Asian trip fruitful




White paper portrays IPR protection progress




Safety experts sent to curb colliery accidents