In loving memory of Chen Yifei
(Xinhua)
Updated: 2005-04-21 08:46
Some 1,000 people gathered in a funeral parlor in this east China metropolis Wednesday morning to bid farewell to noted Chinese artist Chen Yifei, who died of gastrorrhagia, or stomach hemorrhage, in a local hospital ten days ago.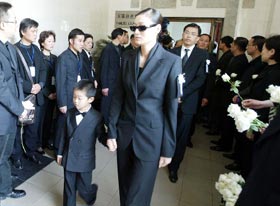 Song Meiying,widow of renowned artist Chen Yifei, walks into a Shanghai funeral parlor with their son yesterday. Some 1,000 people attended a funeral for Chen, who died of liver disease in a local hospital 10 days ago at age 59. [Xinhua]


The one-hour ceremony attracted a large number of Chinese celebrities from the art, entertainment, fashion and publishing circles, as Chen was widely regarded as a real master with great attainments in all these fields.

Big-name attendees of the ceremony included world famous Chinese composer Tan Dun and directors Chen Kaige and Feng Xiaogang.

Chen Yifei, a native of Zhenhai City in east China's Zhejiang Province, was born in 1946 and educated in the Shanghai Fine Art School. He went to the United States to receive higher education in 1980, and his artistic career started to blossom after he received a master's degree in art in 1984.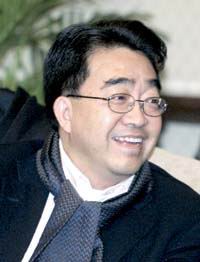 Chen Yifei died at 59, leaving his debut film "Barber" unfinished. [baidu]

His stardom was demonstrated in his first personal exhibition held at New York's Hammer Galleries and the selection of his work by an American oil mogul as a special present to late Chinese leader Deng Xiaoping.

Chen was known to his fellow countrymen more as an art generalist and successful businessman than an exceptional painter. Returning to China in the 1990s, Chen pioneered into many artistic fields such as fashion design, film making and publishing while continuing with his painting endeavors.

"I'd like to make my own choice while selecting a way of life. I love paintings, clothing and films because they are all beautiful things," Chen once said.

Chen gave much of the money earned from the sale of his paintings to Project Hope, a charity program aiming to help poor school drop-outs in China resume their education. He also established an art foundation, according to unconfirmed reports ofa Beijing-based newspaper.

Prior to his hospitalization immediately followed by his death,Chen, as director-cum-investor, was filming a new movie titled "The Barber" in Fuyang, a city in his home province Zhejiang. The crew said they would work even harder to finalize the movie early and present it to the deceased Chen.

Chen was admitted to Huashan Hospital in Shanghai on April 6 and passed away four days later.

Doctors blamed overwork and exhaustion for his illness and death.

The Shanghai Metro Operation Co. Ltd, which runs the city's subway transport system, issued on Wednesday a special set of commemorative ticket cards featuring two of Chen's most famous paintings, namely, the "Twin Bridge (Shuangqiao)" and "Lingering Melodies at Xunyang", or Farewell at Xunyang.

The memorial set was priced at 18 yuan (2.2 US dollars) each and only 10,000 copies were printed to be sold.

The metro company said the memorial set was selling hot due to the high popularity of Chen in Shanghai.





| | |
| --- | --- |
| | |
| Paris Hilton launches perfume | |

| | |
| --- | --- |
| | |
| Time's 100 most influential people gather in NY | |

| | |
| --- | --- |
| | |
| Chinese model contest | |
Today's Top News
Top Life News

Experts divided over first quarter growth rate




Japan asking for informal summit with China




President's first leg of Asian trip fruitful




KMT chairman to visit mainland




Safety experts sent to curb colliery accidents




9/11 Conspirator could face death penalty