Safety experts sent to curb colliery accidents
By Jiang Zhuqing (China Daily)
Updated: 2005-04-20 23:49
Eighty-four experts from around the country were dispatched yesterday to 45 major State-owned collieries to help curb the number of gas-related accidents.
"Examinations will be conducted by these experts from April 20 to July 20 into major coal mines that are prone to gas accidents," said Li Yizhong, minister of the General Administration of Work Safety yesterday.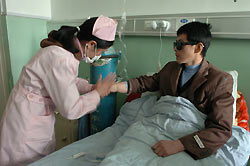 Li Yincai[R] receives a treatment in hospital after being saved from a coal mine accident in East China's Jiangxi Province. Li, saved back very feeble, endured fifteen days of darkness inside the collapsed shaft, living only on the dripping water permeated through. The photo is taken on April 13, 2005. [newsphoto/file]

It is the job of these experts to diagnose any potential risks, better prevention measures as well as gather ideas for future technological innovation to lessen the number of such accidents, officials said.

"Unlike usual work safety overhauls, we will uncover technical loopholes according to the situation of the collieries," said Zhang Tiegang, an academic with the Chinese Academy of Engineering, who will lead a team to Jiangxi and Hubei provinces.

"Comprehensive methods are needed to deal with gas-related problems, which require us to consolidate the technical achievements we have made in the past," he said.

Co-organized by Li's administration, the Sate Administration of Coal Mine Safety, the National Development and Reform Commission and the Ministry of Science and Technology, the experts were divided into 11 panels to go to 17 provinces, autonomous regions and municipalities, where the 45 collieries are located, said Zhao Tiechui, head of the coal mine safety administration.

More than half of the pits are under threat of gas-related accidents, Zhao said.

China's coal mines are regarded as one of the world's deadliest, with thousands of deaths a year blamed on the lack of required equipment or an indifference to safety standards.

"Safety comes first when there is a contradiction between safety and coal output," said Li.

Driven by China's insatiable energy demands, the country doubled its coal output in 2004 to 1.9 billion tons from 1 billion in 2001, said Zhao.

"Currently, 1.2 billion tons of coal in China is produced safely, while 700 million tons is dug out in an unsafe environment."

Work safety investment did not grow in tandem with the increased production, said Zhao, adding that there is a safety investment shortfall of about 50 billion yuan (US$6 billion) at State-owned collieries.

To reverse the situation, the government has allocated 3 billion yuan (US$362.7 million) to upgrade safety this year, following last year's investment of the same amount, officials said.

The National Development and Reform Commission, China's top economic planning body, in February called on coal mines with a sound safety record to allocate 15 yuan (US$1.8) from every ton of coal produced to establish a fund to improve safety, with an aim of narrowing the 50 billion yuan deficit.




Today's Top News
Top China News

Experts divided over first quarter growth rate




KMT chairman to visit mainland




Safety experts sent to curb colliery accidents




Nation, Austria sign five official pacts




Two Americans get jail for DVD piracy




Berlusconi will resign, form new government