KMT chairman to visit mainland
By Xing Zhigang (China Daily/Agencies)
Updated: 2005-04-20 23:49
Taiwan's opposition Kuomintang (KMT) Chairman Lien Chan is set to embark on what he called a "journey of peace" to the mainland.

Scheduled to arrive next Tuesday, Lien is the first KMT chairman to set foot on the mainland since the party left for Taiwan in 1949.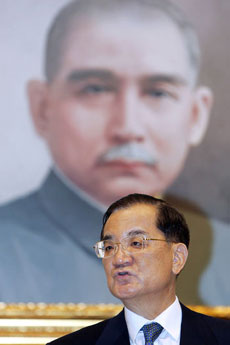 Taiwan opposition leader Lien Chan tells the party's decision-making Central Standing Committee that his planned meeting with Chinese Communist Party General Secretary Hu Jintao next week will help bring peace in the Taiwan Strait April 20, 2005. Lien, head of the party that once ruled all of China before losing it to the CPC party in the civil war in 1949, will embark on what he called a "journey of peace" to the mainland on April 26, becoming the first Nationalist chairman to set foot on the mainland in more than half a century. [Reuters]
Making the short trip across the Straits at the invitation of General Secretary of the Central Committee of the Communist Party of China (CPC) Hu Jintao, Lien will visit Nanjing, Beijing, Xi'an and Shanghai from April 26 to May 3.
During the week-long four-city trip, the KMT leader is scheduled to hold talks with Hu in Beijing on April 29, the first such meeting in 56 years.
Speaking yesterday, Lien said his planned meeting with Hu will help bring peace to the Taiwan Straits.
"Fifty-six years is not a short period of time... so it carries significant meaning," 69-year-old Lien told the party's decision-making Central Standing Committee.
"I will sincerely exchange views with the CPC General Secretary and mainland leader Hu Jintao on issues of mutual concern."
The KMT leader told party officials and reporters that he will try to emphasize Taiwan and the mainland's shared interests rather than their differences.
"Our aim at this time is to bring peace to both sides of the Taiwan Straits, create stability on both sides, and lay some positive groundwork for the future," Lien said.
He brushed aside criticism from the ruling pro-independence Democratic Progressive Party (DPP), which has been threatening Lien with legal action if he signs any agreement with the mainland.
"We are making the trip with peace, goodwill and sincerity in mind... there is no need to blow up the issue like some 'friends' are deliberately doing so," he said.
The KMT yesterday announced the schedule of Lien's trip after KMT Secretary-General Lin Feng-cheng finalized its details on Monday with the Taiwan Work Office of the CPC Central Committee.
According to the itinerary, Lien will leave Taipei on April 26 for Nanjing - capital city of East China's Jiangsu Province - where he will pay his respects on April 27 at the mausoleum of Dr Sun Yat-sen, the KMT founder and a pioneer of the Chinese Democratic Revolution.
Lien is then scheduled to fly to Beijing on April 28 to meet Jia Qinglin, a Standing Committee member of the Political Bureau of the CPC Central Committee.
On April 29, Lien will deliver a speech to students at Peking University with a question-and-answer session before holding talks with Hu in the afternoon.
On April 30, he will travel to his birthplace of Xi'an, capital city of Northwest China's Shaanxi Province, where he will visit his elementary school and his grandmother's tomb.
Lien will meet Taiwan business-people in Shanghai on May 2 before returning home the following day.
Between March 28 and April 1, KMT Vice-Chairman Chiang Pin-kung led a 34-member delegation to make the party's first official trip to the mainland in 56 years.
Hu has also invited James Soong, head of the opposition People First Party, to visit the mainland - an offer Soong immediately accepted.

(China Daily 04/21/2005 page1)

Today's Top News
Top China News

China's economy expands 9.5% in first quarter




Japan asking for informal summit with China




France calls China arms ban 'anachronistic'




President's first leg of Asian trip fruitful




White paper portrays IPR protection progress




Safety experts sent to curb colliery accidents