Clean, green and should be seen
(City Weekend)
Updated: 2005-04-20 16:53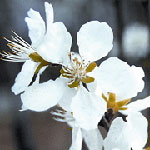 Tired of Beijing's dreary urban drabness? Yearning to escape all that noise and pollution? Celebrate the long-awaited arrival of spring by paying a visit to Beijing's Botanical Garden, with its blossom-laden fruit trees, Buddhist temple, and quiet, well-tended and spacious grounds. The natural splendor of the current Peach Blossom Exhibition (April 1st - May 7th) is a sight to behold, and well worth the minimal entrance fee alone.
Set against the backdrop of Xi Shan, the public garden opened in 1956 and now attracts many visitors, both from China and abroad. Highlights include the Sleeping Buddha Temple, Ornamental Peach Garden, Cherry Valley, Arboretum, Penjing Garden, and the large conservatory, which opened in 1999. The grounds are well-signposted, so head for the newly-opened Visitor Center if you'd like to buy an English brochure and map (as well as postcards and souvenirs). A map can also be downloaded at the Beijing Botanical Garden website (also in English, address below). For specific information you can call the Garden information service (number below), although the English of the staff can be extremely patchy at times!
Although the conservatory costs extra to visit (prices below), this fee is well worth paying, as the steamy building houses 3000 different types of plants. The orchid and cactus displays are particularly impressive. The Sleeping Buddha Temple is located about 15 minutes from the front gate, and is also well worth a visit. The whole temple complex contains four halls and courtyards with a colored glass screen, a pool and stone bridge in front, and Shouan Mountain rising behind. The temple itself, originally named Dousuai Temple, was built during the Tang Dynasty (618-907). The temple's centerpiece is a huge effigy of Sakyamuni weighing 54 tons, which apparently "enslaved 7,000 people" in its casting. On each side of Buddha are sets of huge shoes, gifts to Sakyamuni in case he wanted to go for a walk. Above him are the suitably apt characters "Zizai Dade", meaning "great accomplishment comes from being at ease".
The varied attractions of the Botanical Garden mean that it's worth spending an entire day wandering around (opening times below). Within the grounds are several places to buy snack food, but if you're not a fan of Chinese fast food then it might be a good idea to bring your own. Indeed, there are many suitable areas for undisturbed picnicking. There is also a reasonably-priced restaurant serving Sichuan and Shandong food. At the Botanical Gardens, you'll never regret stopping to smell the flowers.
Beijing Botanical Garden
Daily 7am-5pm (outdoor gardens), 8:30am-4:30pm (conservatory)
Wofo Si Lu, Xiang Shan, Haidian District
2 main entrances on Xiangshan Nanlu and Xiangyi Lu
Tel: 6529-1283 or check: www.beijingbg.com