Annan says did not know of Korea envoy ties
(Agencies)
Updated: 2005-04-20 09:43
UN Secretary General Kofi Annan claimed he did not know his advisor on North Korea had ties to a businessman charged last week with lobbying for Saddam Hussein's government.
Annan refused further comment on questions surrounding the advisor, Canadian Maurice Strong, who on Monday acknowledged he was "associated" with a company that got investments from accused South Korean businessman Park Tongsun.
"I was not aware of it but I don't want to get into it," Annan told reporters, citing investigations into the scandal-tainted 64-billion-dollar UN oil-for-food programme, meant to oversee Iraq's oil sales during Saddam's regime and buy food and medicines with the proceeds.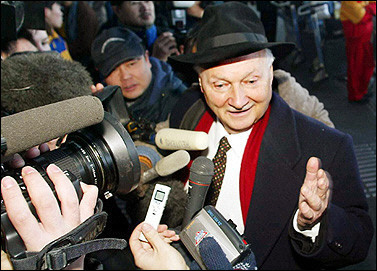 Maurice Strong, envoy of United Nations Secretary General Kofi Annan, is seen in 2003. Annan claimed he did not know his advisor on North Korea has ties to a businessman charged last week with lobbying for Saddam Hussein's government. [AFP/File]

The US attorney for the Southern District of New York last week issued a criminal complaint accusing Park of acting as an "unregistered agent" of Saddam's regime to lobby two unnamed senior UN officials.

Park was quoted in a Seoul newspaper on Saturday admitting that he had got "some money" from Saddam's government for his role.

He said that US prosecutors had told him they did not consider him a top figure in the investigation, but wanted to use him to get to high-ranking UN officials suspected of corruption.

Strong, Annan's special envoy to North Korea, said on Monday that he had no connection to the oil-for-food programme but added that Park had invested in an energy firm with which he was involved.

The US attorney's complaint cited an unidentified government witness saying that Park had invested one million dollars in a Canadian company set up by the son of one of the two unnamed UN officials.

Park was also accused of having received two million dollars from the Iraqi government on the understanding that a portion of the money would be used to "take care" of the second UN official.

Park was at the center of the "Koreagate" influence-peddling scandal in Washington in the mid-1970s, and was indicted for offering illicit political funds to US politicians.

"I have continued to maintain a relationship with Mr Park," Strong said in his statement on Monday. "Indeed, as a native of North Korea, he has advised me on North Korean issues in my role as UN envoy."

The oil-for-food scandal has cast a shadow over Annan's leadership of the United Nations, with some US lawmakers calling for his resignation amid a string of damaging revelations.

In addition to the US attorney's probe, US lawmakers are conducting an enquiry as is Paul Volcker, the former US Federal Reserve banking chief appointed by Annan to address allegations of fraud and corruption.

The Volcker commission has already raised questions about Kojo Annan, saying last month that the UN chief's son had concealed his ties to a company that employed him and had a lucrative oil-for-food contract.

It has also accused Benon Sevan, the Cypriot national who headed the programme, of a grave conflict of interest after concluding he had helped steer oil contracts from Saddam's regime to an acquaintance.

Two Texas oilmen pleaded not guilty Monday to charges of paying millions of dollars in kickbacks to Saddam out of oil-for-food moneys.




Today's Top News
Top World News

Two Americans get jail for DVD piracy




FM: Annan's advice taken on board




German cardinal becomes Pope Benedict XVI




Tokyo court rejects appeal of war victims




Toothpaste cancer scare spotlighted




Safety must improve as air travel grows