The second phase of renovation on a 12.4-kilometre-long section of the Great Wall - known as Huanghuacheng - has begun.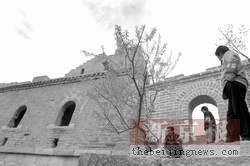 There are patrols at entrance of the renovation site. [the beijingnews.com]
The work, in the northeastern suburbs of Beijing, is the first renovation this year on the famous Wall. The initial repair project at Huanghuacheng started in March last year. It includes rehabilitating 13 battlements, two gates and 3,300 metres of wall on a four-kilometre stretch, said Mei Ninghua, director of the Beijing Municipal Bureau of Cultural Heritage.
The Wall has been rebuilt by various dynasties in the last 2,000 years.
This latest project is scheduled to be carried out in three phases and cost at least 12 million yuan (US$1.5 million), said Mei.
"The renovation of the Great Wall should use original materials and traditional techniques as much as possible. Otherwise, the repairs will destroy the priceless heritage rather than preserve it," said Luo Zhewen, an expert on ancient architecture.
Several other parts of the Wall in Beijing are also expected to be repaired this year, including those at Jiankou, Chadaocheng and Gubeikou.
These sections are known as "wild wall" because they are not open to tourists, said Mei.
Wall renovations are part of the city's massive face-lifting project in which the municipal government plans to spend 600 million yuan (US$72 million) on heritage preservation between 2003 and 2007.
The Huanghuacheng section of the Great Wall was first built in the Northern Qi Dynasty (AD550-577). The current part was built in the Ming Dynasty (1368-1644).
In the summer this section of the Great Wall is covered in yellow flowers (Huanghua in Chinese), hence the name.
It provides a challenge to hikers as the section has no stone steps and no single smooth path.
Zhou Hongfu, an official with the local government of Huairou District where Huanghuacheng is located, said the section would be formally open to the public after the renovation.