German cardinal becomes Pope Benedict XVI
(Agencies)
Updated: 2005-04-20 07:51
VATICAN CITY - With unusual speed and little surprise, Cardinal Joseph Ratzinger of Germany became Pope Benedict XVI on Tuesday, a 78-year-old transitional leader who promises to enforce strictly conservative policies for the world's Roman Catholics.
Appearing on St. Peter's Basilica balcony as dusk fell, a red cape over his new white robes, the white-haired Ratzinger called himself "a simple, humble worker." The crowd responded to the 265th pope by waving flags and chanting "Benedict! Benedict!"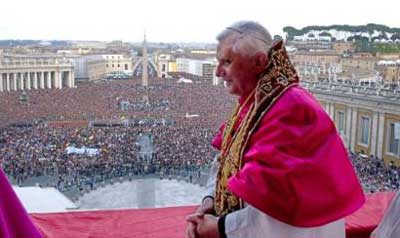 In this photo made available by the L'Osservatore Romano Vatican newspaper, Pope Benedict XVI looks on after greeting and blessing the crowd from the central balcony of St. Peter's Basilica at the Vatican, Tuesday, April 19, 2005. Joseph Ratzinger of Germany, who chose the name of Pope Benedict XVI, is the 265th pontiff of the Roman Catholic Church. [AP]

From Notre Dame in Paris to the Basilica of Guadalupe in Mexico City, cathedral bells tolled and prayers were offered. Millions watched live television broadcasts of St. Peter's bells pealing at 6:04 p.m. and white smoke pouring from the Sistine Chapel's chimney ! signs a successor to John Paul II had been chosen.

Not everyone was happy, however. Jose Silvano, a 40-year-old travel agent from Brazil, called Ratzinger "the right pope for the cardinals, but not for the people. We were hoping for a South American, a Brazilian, a pope who would work for the neediest and the rights of women and children."

Niels Hendrich, 40, of Hamburg, Germany, jumped up and down at the prospect of a new pope ! but then gave only three halfhearted claps when he learned who it was.

"I am not happy about this at all," he said. "Ratzinger will put the brakes on all the progressive movements in the church that I support."

But Cardinal Walter Kasper of Germany said Ratzinger's communication skills were a factor in his selection. "They wanted a man who is firm in faith and church doctrine but also a man who can explain things," Kasper told CNN.

At the sound of the bells, nuns pulled up their long skirts and joined others jogging toward St. Peter's Square to watch the new pope emerge. Many were delighted when Chilean Cardinal Jorge Arturo Medina Estivez stepped onto the balcony and announced Ratzinger's election.

"The cardinals elected a good and holy man who was close to Pope John Paul II," said Mark Wunsch, 27, a religious philosophy student from Denver. "He'll be a wonderful and good leader in preaching the truth and love."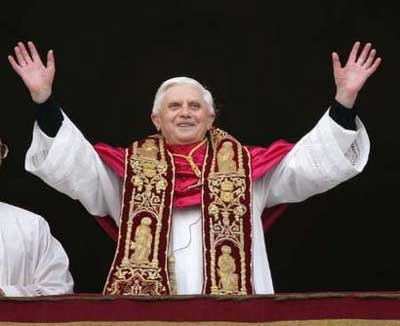 Pope Benedict XVI, Cardinal Joseph Ratzinger of Germany, waves from a balcony of St. Peter's Basilica in the Vatican after being elected by the conclave of cardinals, April 19, 2005. German Cardinal Joseph Ratzinger, the strict defender of Catholic orthodoxy for the past 23 years, was elected Pope on Tuesday despite a widespread assumption he was too old and divisive to win election. [Reuters]

As head of the powerful Congregation for the Doctrine of the Faith, Ratzinger disciplined dissidents, backed John Paul in resisting reforms sought by liberals and urged caution in pursuing relations with other Christian denominations.

Coming from a continent where many churches are empty, he has pushed for Europe to rediscover its Christian roots while suggesting that Turkey's bid for membership in the European Union may be incompatible with European culture.

"Dear brothers and sisters, after the great Pope John Paul II, the cardinals have elected me ! a simple, humble worker in the vineyard of the Lord," the new pope said in heavily accented Italian after being introduced.

"The fact that the Lord can work and act even with insufficient means consoles me, and above all I entrust myself to your prayers," he said.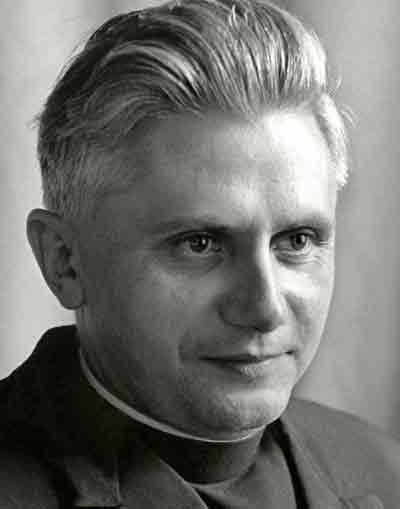 German Cardinal Joseph Ratzinger is pictured during his time as a professor at the University of Regensburg in this September 14, 1965 file photo. [Reuters/file]

Ratzinger went into the conclave a favorite. But the cardinals had appeared torn among choosing a short-term pope, returning the papacy to Italy after Polish-born John Paul's 26-year reign or electing a prelate from Latin America, home to nearly half the world's 1.1 billion Catholics.

As dean of the College of Cardinals, Ratzinger had delivered a particularly sensitive homily at John Paul's funeral. He followed it up with a fiery speech to the cardinals before they entered their conclave Monday, warning about tendencies that he considered dangers to the faith: sects, ideologies like Marxism, liberalism, atheism, agnosticism and relativism ! the ideology that there are no absolute truths.

"Having a clear faith, based on the creed of the church is often labeled today as a fundamentalism," he said. "Whereas relativism, which is letting oneself be tossed and swept along by every wind of teaching, looks like the only attitude acceptable to today's standards."

His election in four ballots over two days ! the first of Tuesday's afternoon session ! was one of the shortest in 100 years. He is also the oldest pope elected since Clement XII in 1730.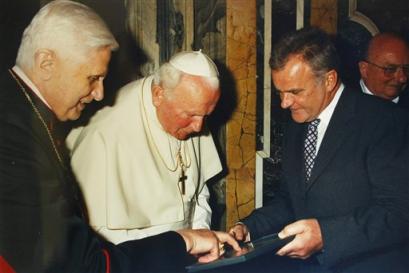 German Cardinal Joseph Ratzinger, left, shows documents to Pope John Paul II center, as Hubert Gschwendtner, mayor of Marktl, southern Germany, Ratzinger's hometown, looks on in Marktl, in this undated file picture.[AP/file]

Ratzinger is the first Germanic pope in nearly 1,000 years. There were at least three German popes in the 11th century. The last pope from a German-speaking land was Victor II, bishop of Eichstatt, who reigned from 1055-57.

Like John Paul, whose country was occupied by the Nazis, Ratzinger also has a World War II legacy.

In his memoirs, he wrote of being enrolled in Hitler's Nazi youth movement against his will when he was 14 in 1941, when membership was compulsory. He says he was soon let out because of his studies for the priesthood.

Two years later, he was drafted into a Nazi anti-aircraft unit as a helper, a common fate for teenage boys too young to be soldiers. Enrolled as a soldier at 18, in the last months of the war, he barely finished basic training.

"We are certain that he will continue on the path of reconciliation between Christians and Jews that John Paul II began," said Paul Spiegel, head of Germany's main Jewish organization.

Benedict XVI decided to spend the night at the Vatican hotel, the Domus Sanctae Marthae, and to dine with the cardinals. He was to preside over a Mass on Wednesday in the Sistine Chapel and will be formally installed Sunday.

If Ratzinger was paying tribute to the last pontiff named Benedict, it could be interpreted as a bid to soften his image as a doctrinal hard-liner. Benedict XV reigned during World War I and was credited with settling animosity between traditionalists and modernists, and dreamed of reunion with Orthodox Christians.

Benedict comes from the Latin for "blessing" and is one of a number of papal names of holy origin such as Clement ("mercy"), Innocent ("hopeful" as well as "innocent") and Pius ("pious").

The bells of St. Peter's rang after a confusing smoke signal that Vatican Radio initially suggested was black but then declared was too difficult to call.

The cardinals took an oath of secrecy forbidding them to divulge how they voted. Under conclave rules, a winner needed two-thirds support, or 77 votes from the 115 cardinal electors.

After the smoke appeared, the faithful poured into the square, their eyes fixed on the burgundy-draped balcony. Pilgrims said the rosary as they awaited the name of the new pope and prelates stood on the roof of the Apostolic Palace, watching as the crowd swelled.

Antoinette Hastings, from Kent Island, Md., rose from her wheelchair, grasping her hands together and crying. She has artificial knees, making it tough to stand.

"I feel blessed, absolutely blessed," she said. "I just wish the rest of my family were here to experience this with me."

In the pope's hometown of Traunstein, Germany, a room full of 13-year-old boys at St. Michael's Seminary that Ratzinger attended jumped up and down, cheered and clapped at the announcement of his name.

"It's fantastic that it's Cardinal Ratzinger. I met him when he was here before and I found him really nice," said 16-year-old Lorenz Gradl.

Ratzinger succeeds a pope who gained extraordinary popularity over history's third-longest papacy. Millions mourned him around the world after his death on April 2.

Benedict faces new issues: the need for dialogue with Islam, the divisions between the wealthy north and the poor south as well as problems within the church.

These include the priest sex abuse scandals that have cost the church millions in settlements in the United States and elsewhere; coping with a chronic shortage of priests and nuns in the West; and halting the stream of people leaving the church.

Pope John XXIII was 77 when he became pope in 1958 and was viewed as a transitional figure, but he called the Second Vatican Council that revolutionized the church.

"With the new Holy Father, we can be assured of continuity with his predecessor and of a personality who will lead the church with great responsibility before God," said Heiner Koch, the prelate in charge of the German youth event.





Today's Top News
Top World News

KMT leader to visit mainland April 26-May 3




Two Americans get jail for DVD piracy




FM: Annan's advice taken on board




German cardinal becomes Pope Benedict XVI




Tokyo court rejects appeal of war victims




Bush, US Senate jerk up pressure on yuan