Kremlin power, Russia media "very worrying"- Rice
(Agencies)
Updated: 2005-04-19 22:36
US Secretary of State Condoleezza Rice, starting a two-day trip to Moscow, said on Tuesday the Kremlin's tightening grip on power and Russia's pliant media were "very worrying".
"Trends have not been positive on the democratic side," Rice told reporters on board her plane en route to Moscow, where she was due to meet President Vladimir Putin and other top officials.
"The centralisation of state power in the presidency at the expense of countervailing institutions like the Duma (parliament lower house) or an independent judiciary is clearly very worrying. The absence of an independent media on the electronic side is clearly very worrying," she added.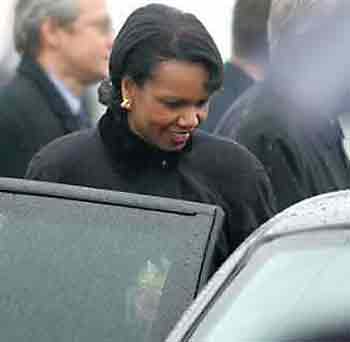 U.S. Secretary of State Condoleezza Rice gets into a car during upon arrival in Moscow April 19, 2005. Rice Tuesday called the Kremlin's tight grip on power and the media 'very worrying' and urged Russian President Vladimir Putin not to cling on to power beyond his present term.[Reuters]

Rice also said it "would not be a positive development" if Putin changed the constitution to be able to run for a third successive term.

The Kremlin leader has on several occasions said he will not seek to stay on when his second and, under the constitution, his final term ends in 2008 and Rice said Washington took him at his word.

Rice, who will meet Putin on Wednesday after talks with Defence Minister Sergei Ivanov and Foreign Minister Sergei Lavrov, is in Moscow to prepare the ground for a visit by US President George W. Bush next month. Bush will attend the 60th anniversary of the Soviet army's World War Two victory on May 9. The top US diplomat also linked democracy to Russia's participation in the G8 group of democratic industrialised powers, saying the forum should be used to press Moscow to be as open as its other members.

"Some of the responsibilities that attend that kind of inclusion mean they have to deal with the problems," she said.

Russia is considered a test case of Bush's vow to make spreading democracy central to all Washington's bilateral relations.




Today's Top News
Top World News

Two Americans get jail for DVD piracy




FM: Annan's advice taken on board




German cardinal becomes Pope Benedict XVI




Tokyo court rejects appeal of war victims




Toothpaste cancer scare spotlighted




Safety must improve as air travel grows