Philippines, Pakistan agree to boost intelligence cooperation
(Agencies)
Updated: 2005-04-19 15:41
Pakistan President Pervez Musharraf and his Philippines counterpart Gloria Arroyo agreed to boost intelligence cooperation to combat Al-Qaeda-linked militants.
Musharraf, on a swing through Asia, arrived in Manila late Monday and was given full military arrival honors at the Malacanang presidential palace on Tuesday before holding talks with Arroyo.
Musharraf, who did not speak to the press, is to address a joint session of the Philippine Congress later in the day.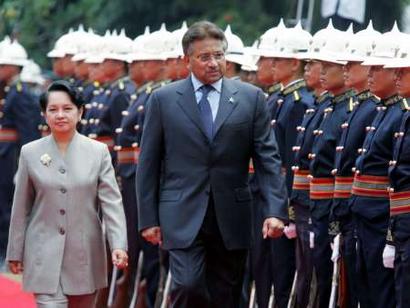 Philippine President Gloria Macapagal Arroyo (L) walks with visiting Pakistani President Pervez Musharraf as they review troops during the welcoming ceremony at the Presidential Palace in Manila April 19, 2005. Musharraf arrived in the Philippines on Monday for a three-day visit expected to focus on cooperation against Muslim militancy and the the U.S.-led war against terrorism.[Reuters]

"On the military aspect, we agreed to enhance our intelligence cooperation," Arroyo told reporters after the meeting on Tuesday. "It's very very important in the world of international terrorism."

Arroyo said Philippine authorities are to work closely with Pakistan's Inter-Services Intelligence (ISI), which has been tracking down key operatives of the Taliban after the hardline Islamic militia were toppled from power by US-led forces in 2001.

Pakistan abandoned the Taliban in the aftermath of the September 11, 2001 attacks in the United States. The Taliban had sheltered Osama bin Laden's Al-Qaeda network which carried out the attacks.

Musharraf and Arroyo also witnessed the signing of a memorandum of understanding serving as a "legal framework to facilitate cooperation and inter-operability between the security, intelligence and law enforcement agencies of the two countries".

The agreement was signed by Philippine Interior Secretary Angelo Reyes and Pakistan Foreign Secretary Riaz Khan.

Musharraf is the first Pakistani leader to visit the Philippines, a key supporter of the US-led war on international terrorism.

He will fly to Indonesia on Wednesday after his three-day state visit in Manila.




Today's Top News
Top World News

Germ warfare site bids for world heritage status




Spotting Great Wall from space IS possible




KMT chief to visit mainland April 26 - paper




Agreements pave way for China-Australia FTA




Tang: Japan failed trust of the Chinese people




NPC to discuss Basic Law interpretation