Olympic gold medalist Hamilton suspended
(Agencies)
Updated: 2005-04-19 14:06
Olympic gold medalist Tyler Hamilton was suspended Monday from competitive cycling for two years for a blood-doping violation discovered at a race in September.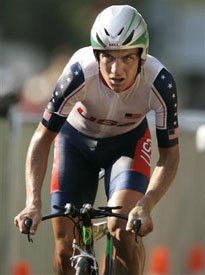 Tyler Hamilton, of the United States, pedals on his way to win the gold medal during the men 's road individual time trial of the 2004 Olympic Games in the outskirts of Athens, in this Aug. 18, 2004 file photo. [AP]
The suspension was handed down by the independent American Arbitration Association-North American Court of Arbitration for Sport.
He can return to competition April 17, 2007, but he forfeits all competitive results since Sept. 11, 2004, the day of the positive test at the Spanish Vuelta.
The positive test occurred the month after Hamilton won the time trial at the Athens Olympics. Hamilton allegedly tested positive in Athens, but that case was dropped. Nonetheless, the Russian Olympic Committee filed an appeal with the Court of Arbitration for Sport seeking to strip Hamilton of his gold medal and give it to Vyacheslav Ekimov.
U.S. Olympic Committee spokesman Darryl Seibel declined to comment on Hamilton's suspension and said he didn't know the status of the Russian appeal.
Hamilton did not immediately return a phone call for comment.
Hamilton has denied doping allegations. A statement posted on his Web site Monday before the suspension was announced said, "I would never risk my health or my wife's health for the sake of racing."
The arbitration panel ruled that Hamilton's positive sample was from a transfusion of another person's blood. That would increase Hamilton's red-blood-cell count, increasing his endurance, U.S. Anti-Doping Agency said.
Based on blood tests done in spring and summer 2004, cycling's international governing body, Union Cycliste International, had warned Hamilton and his Phonak team that he was under suspicion.
"UCI took the necessary action to protect the integrity of its sport," said Terry Madden, USADA's chief executive officer. "This decision shows that sport is committed to protecting the rights of all clean athletes and that no athlete is above the rules."
Hamilton first tested positive for blood doping after winning the time trial at the Athens Olympics in August. The case was dropped after his backup sample was frozen, leaving too few red blood cells to analyze.
Prosecutors in Athens alleged in December that a doping laboratory destroyed Hamilton's blood sample.
The UCI denied Phonak a racing license last fall because Hamilton and two other team riders had been charged in drug cases in the previous three months. The decision meant Phonak cannot compete in UCI Pro Tour events this year, including the Tour de France.
Phonak fired Hamilton in November, nearly a year before his contract was set to expire. He said at the time that he agreed to leave to improve the team's chances of competing on the pro tour.
Hamilton was considered a possible successor to six-time Tour de France winner Lance Armstrong. The two were once teammates on the U.S. Postal Service team. Hamilton finished fourth in the 2003 Tour despite a broken collarbone.
Hamilton earned a six-figure salary with Phonak and has endorsement deals with Nike, Oakley and other sponsors.
| | |
| --- | --- |
| | |
| A Farewell to Armstrong | |

| | |
| --- | --- |
| | |
| Rockets beat Clippers 115-90, win 6th straight | |

| | |
| --- | --- |
| | |
| Manchester United crush Newcastle 4-1, ease into the FA CIP final | |
Today's Top News
Top Sports News

Agreements pave way for China-Australia FTA




Spotting Great Wall from space IS possible




Tang: Japan failed trust of the Chinese people




NPC to discuss Basic Law interpretation




Invitation for second Taiwan party chief




Bush says raising retirement age a possibility