Great Wall from space? You should know where to look
By Dwight Daniels (China Daily)
Updated: 2005-04-19 09:36
So, now we know. The Great Wall is almost certainly perceptible by the naked eye from space. That is, if one encounters perfect conditions and knows precisely where to look.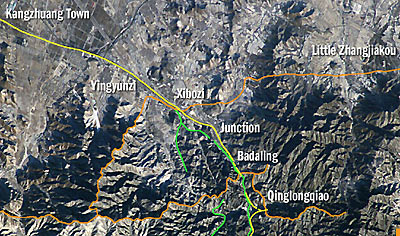 This shot of the Badaling section of the Great Wall was taken by space station astronaut Leroy Chiao on the morning of February 20 when he flew over Beijing at an altitude of 360 kilometres. The photograph, the first ever released by Chiao, was studied by Professor Wei Chengjie, an expert in remote sensing, who added the markings and toned down the blue colour so that it closer resembles the view one would have from an aeroplane. [Leroy Chiao]

Thanks to a series of extraordinary conversations from the heavens to Earth and back between an enterprising China Daily reporter and an American astronaut, a riddle of almost epic proportions has apparently been solved.

The myth was grand, at one point nearly prompting a nation - China - to change claims in its school textbooks, pointing out that the Great Wall wasn't visible from the reaches of space.

This was a heavy blow to the esteem of all China.

It may be time to fire up the printing presses again. Astronaut Leroy Chiao, a pioneering Chinese-American astronaut and avid photographer, has circled the planet for six months.

And he has on the one hand helped prove a matter of national Chinese pride, while at the same time debunking the myth entirely.

In extraordinary email commu-nications with reporter Raymond Zhou over a series of weeks and months, the astronaut has shared a multitude of photographs and thoughts from above.

The images he has photographed prove the Great Wall is by no means distinctive as being the only manmade structure visible from space.

Chiao wrote that he could see airports and cities, as well as large bridges and dams, and even the Chinese launch pad from which Chinese space flyer Yang Liwei began his epic journey into orbit as China's first astronaut.

The American has also spotted the great pyramids of Egypt, and photographed them as evidence of his visual acuity. "You have to know where to look," he told Zhou, chatting almost like an old friend over a coffee at Starbucks.

And all these things can be easily sighted from space without a telescope or other visual aids.

Indeed, many manmade objects featuring sharper contrasts than the Great Wall register far more easily on the human eye from the reaches of space.

In fact, if anything, the Great Wall looks like a valley or a river, snaking along as it does through mountain ranges across China.

His photographs have been studied by some of the country's most renowned experts. What has been learned is astonishing, especially in light of the great debate that has gone on for decades after American astronaut Eugene Cernan triggered the debate.

Cernan, who logged 566 hours and 15 minutes in space, insisted he had spotted the Great Wall when he flew above in the Apollo programme, and has made the claim again and again over the years.

It now appears Cernan was right: He may have. But nobody is sure what he really saw, maybe not even Cernan himself.

Chinese space man Yang Liwei said he didn't see it, and bowed out of the controversy.

The Great Wall should be perceptible from Chiao's perch at the International Space Station, if and when the space station is perfectly aligned for viewing, and if Mother Nature allows weather conditions and lighting on Earth that are ideal. And the spotter has just seconds to make the observation.

To use an analogy, seeing the Great Wall would be like spotting a particular koi swimming in a gigantic glimmering Japanese pond of multi-coloured fish heading in all directions.

Yet Chiao has not yet given up on the idea of spotting the structure without a camera, though the last time he passed over it with a good opportunity to pick it out, the weather was too cloudy and smoggy, he said.

Now, he's got one more chance to see it before his April 25 scheduled landing in Kazakhstan.

It would be a great achievement for this humble man who traces his ethnic roots to Shandong in China.

He could claim it as feat for the United States, China, and the world.

We certainly wish him the best.

| | |
| --- | --- |
| | |
| Paris Hilton launches perfume | |

| | |
| --- | --- |
| | |
| Time's 100 most influential people gather in NY | |

| | |
| --- | --- |
| | |
| Chinese model contest | |
Today's Top News
Top Life News

KMT leader to visit mainland April 26-May 3




Two Americans get jail for DVD piracy




FM: Annan's advice taken on board




China congratulates Ratzinger as new pope




Tokyo court rejects appeal of war victims




Bush, US Senate jerk up pressure on yuan