Singapore gives green light to two casinos
(Agencies)
Updated: 2005-04-19 09:24
Singapore approved on Monday a controversial proposal to legalize casino gambling, clearing the way for two multi-billion dollar casino resorts to bring in tourist dollars and overhaul the island's staid image.
Prime Minister Lee Hsien Loong told parliament the government had decided to approve two casino developments worth a combined $3.0 billion, one on Marina Bay near the downtown city center and one on the resort island of Sentosa.
"We cannot stand still. The whole region is on the move," Lee said in his first major policy decision since taking power in August. "If we don't change, where will we be in 20 years?"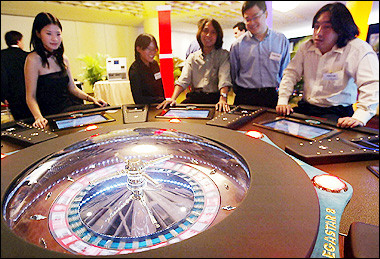 Visitors try out the roulette game at a gaming and casino exhibition in Singapore in 2003.[AFP/File]

The casino resort is central to Singapore's ambitious target of doubling tourist numbers to 17 million a year, tripling their annual spending to US$18 billion, creating about 100,000 jobs and overturning the stereotype of a staid, sleepy island.

The casino plan -- part of a broader effort to re-engineer Singapore's economy and turn the affluent city-state into a Monaco of the East -- provoked a rare open policy debate over whether the benefits would outweigh potential risks of gambling addiction and crime.

The decision comes as big casino operators are turning to Asia for expansion and could spur regions such as Thailand, India, Taiwan and Japan into legalizing casinos after explosive growth in casinos in the Chinese city of Macau, analysts say.

Singapore has received 19 concept proposals from nearly every big name in the global casino business -- including Las Vegas giants Harrah's Entertainment Inc., MGM Mirage, Kerzner International Ltd. and Wynn Resorts Ltd., and Australia's TabCorp Holdings

Potential developers include Singapore's CapitaLand Ltd. and Keppel Land Ltd.

A BIG PROJECT

The casino, expected to open its doors in 2009, will form the epicenter of a resort boasting theme parks, the city's biggest shopping plaza, a museum, convention halls and a 1,500-2,000 room hotel either on Singapore's Sentosa Island or closer to downtown.

U.S. investment bank Merrill Lynch estimates the casino resort would cost about US$2 billion to build, have an enterprise value of about $4.8 billion with a third of its estimated $2.1 billion a year in revenues coming from tourists.

Some have been selected to submit a second proposal to the government, beginning the next phase in a selection process that is expected to end in December when the government awards a license to a syndicate to build the project.

Economists say the casino will accelerate efforts to remold Singapore's economy into a services hub as China's rapid economic growth erodes its traditional manufacturing base and fast-growing cities such as Bangkok vie for tourist dollars.

Tomo Kinoshita, economist at Nomura Singapore, reckons the casino resort could boost the economy by 0.6 percentage point a year while creating about 13,000 jobs -- equivalent to about 0.6 percent of Singapore's labor force.

"The casino will have a significant effect on the labor market," he said before news of the approval.

LOCAL PLAY

The decision came after spirited debate on the plan. "Casi-NO" bumper stickers adorned some cars. The Web buzzed with discussion on the topic. Even founding Prime Minister Lee Kuan Yew -- the premier's father -- expressed concern.

One group -- "Families Against the Casino Threat in Singapore" -- gathered 29,413 signatures in an online petition to stop it, while two opposition parties formally opposed the plan.

Singaporeans already bet heavily in lotteries, on cruise ships and via illegal bookmakers. Merrill Lynch estimates that a casino could capture up to 60 percent of the $735 million Singaporeans spend each year gambling abroad. ($1=1.657 Singapore Dollar)




Today's Top News
Top World News

Tang: Japan failed trust of the Chinese people




Invitation for second Taiwan party chief




Agreements pave way for China-Australia FTA




NPC to discuss Basic Law interpretation




Spotting Great Wall from space IS possible




'Bandung spirit' lives on after 50 years