Searching for home from space: Chiao's story
By Raymond Zhou (China Daily)
Updated: 2005-04-19 07:25
Some 350 kilometres from earth and orbiting it once every 90 minutes, a mesmerized Leroy Chiao constantly gazes outside his window and points his zoom lens at different sites.
Gazing at the watery blue planet and taking photos are two of his big pleasures, apart from his challenging work as an astronaut. He loves to search the streaks of colours below for his favourite places.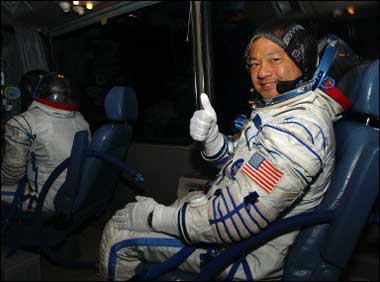 Expedition 10 Commander and NASA Science Officer Leroy Chiao gives the 'thumbs up' 14 October, 2004. [AFP]

And his most favourite is Qingdao of Shandong Province in East China. It's a city he has never been to, but for which he somehow feels an affinity - a mysterious power of connection.

"It is where my family is from. I felt a connection with Shandong and Qingdao when I photographed them. I still have family members in the province," he reveals in a series of interviews that spanned two months.

If someone could hear radio signals from outer space these past six months, they might hear people calling out "Shandong" - Chiao's radio "call" name. It is how Chiao identifies himself to his crew or his crew seeks his instructions.

Aspiring to the sky

Leroy Chiao (or Jiao Lizhong in Chinese pinyin) is one of only four Chinese-American astronauts with space flight experience. Besides being one of the US astronauts who has stayed in space for the longest time, he holds records on several counts: He is the first ethnic Chinese to perform a space walk, the first Chinese-American to be commander of a space station and the first astronaut to vote in a presidential election from space.

Chiao has completed six space walks - the first four times wearing an American space suit, the last two donning Russian space garb.

As a young man, Leroy showed a passion for flying. While studying for his doctorate at the University of California at Santa Barbara, he started taking flying lessons.

"I loved flying as much as I thought I would and continue to fly aircraft. Now my wife and I live at an airport in Houston. At the back of our house, we literally have a hangar. Inside is my own airplane. It's a single-engine four-seater called a Grumman Tiger."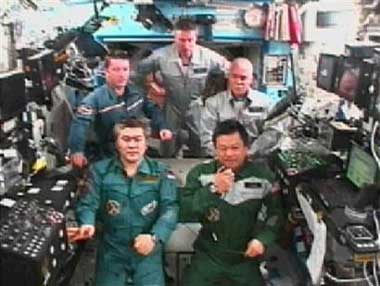 In this image from television released by NASA, European Space Agency astronaut Robert Vittori, left back row, Expedition crew 11 Russian commander Sergei Krikalev, center back row, and U.S. astronaut John Phillips are joined by Expedition crew 10 members cosmonaut Salizhan Sharipov, left front row, and U.S. commander Leroy Chiao in the Destiny module for a televised news conference Monday, April 18, 2005. Italian Vittori will return to Earth with the Expedition 10 crew on April 25, 2005. [AP]

Born in the United States in 1960, Chiao was inspired at the tender age of 6 by the lunar mission and Neil Armstrong's "giant step for mankind." While in college, he applied to become a National Aeronautics and Space Administration (NASA) astronaut. Out of 2,500 applicants, he was one of just 23 successful candidates.

"The love of flying did not inspire me to become an astronaut, rather, the two are related. They are part of the same dream," he declares.

Chiao has so far logged over 2,600 flight hours in a variety of aircraft. By April 25, when Chiao is scheduled to land in Kazakhstan, he will have logged 228 days in space, including six space walks totalling some 41 hours.

A scientist first and foremost

A lot of people are surprised to learn that Chiao did not "start" as an astronaut.

He majored in chemical engineering and got his bachelor's degree from the University of California at Berkeley in 1983, and a master's and doctorate in the same field from the University of California at Santa Barbara in 1985 and 1987.

This background "taught me about a broad spectrum of technical subjects. There is no one area of chemical engineering that specifically helped me in my career as an astronaut, it was more the general education in engineering. Also, it was a very difficult and rigorous course. So, it made me strong and resourceful," he reflects.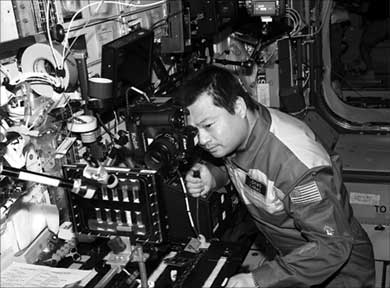 Spotting and photographing Chinese landmarks is Leroy Chiao's big hobby. All the equipment he uses is commercially available. There is no miracle telescope involved here. [Courtesy of Leroy Chiao]

In terms of recruiting, NASA targets scientists from a variety of fields in its astronaut training programmes. Besides pilots with military backgrounds, there are physicists, chemists and medical researchers.

According to Chiao, hard work and perseverance are two of the most important prerequisites to being an astronaut - that and a little luck.

"Of course, you'll have to meet the physical and psychological demands. A space walk takes a lot of energy."

As a scientist, Chiao has won numerous awards, which is a reminder of NASA's foresight in selecting a scientist with a passion for flying.

Before joining NASA, Chiao worked for Hexcel, a San Francisco-area firm where he worked on optically correct, polymer-composite precision-segment reflectors that are used for space telescopes.

In 1989, while at the Lawrence Livermore National Laboratories, he was involved in processing research for the fabrication of filament-wound and thick-section aerospace composites and developed a mechanistic cure model for graphite fiber/epoxy composite materials.

Life in space

For someone whose technical assignments included crew equipment, Leroy Chiao was chagrined to find that after boarding the current space ship last October, food stocks were running low.

He and his crew had to go on a mandatory diet and each spaceman lost 5-10 pounds before the supply ship arrived. When explaining this sardonic accident, he clarifies that the previous crew had eaten up more than their share but forgot to report it to the ground crew.

Other than this unprecedented little accident, Chiao enjoys his favourite foods on board, which includes Chinese food and snacks prepared by his wife, Karen. There are daily routines that would be easy for those of us on earth but a little cumbersome for those way up in space.

"We do not have a shower in space. We use wet towels and rinseless shampoos, like they use in hospitals. It keeps us very clean, but it is not as satisfying as a hot shower."

Life on a space station is not boring, Chiao explains. There are many experiments to do, some of which are automatic, while others are very much hands-on.

He cites one in particular, which uses ultrasound. Chiao and his crew practise using a device to "image each other's internal organs, bones, eyes and teeth," all the while receiving instructions from doctors on the ground.

"It is a very interesting and rewarding experiment," he laughs.

Chiao calls his wife every day from the space station, but he wishes that someday he could take her on a tour to where he has been. "It's logical, just like it happened with the airplane. So will it be with space. One day, people will be able to buy tickets to visit space."

The experience of an astronaut has changed Chiao's personal feelings and philosophy, he admits.

"I observe the earth and it is so beautiful. Even the places where there is great conflict and misery appear beautiful. This dichotomy has taught me to appreciate life and not to be upset by small things. I think this perspective has helped me find more inner peace and focus in my life."

Nourishment from two cultures

When Chiao first heard of Yang Liwei's flight into space, he sent a letter of congratulation and a photo of himself.

"I hope that China will continue with space exploration. It would be logical to have international co-operation. I hope that it will come about and that I can be involved in it."

As one of the very select few ethnic Chinese astronauts in the world, Leroy Chiao is fully aware of his function as a role model, especially to children. "It's not the reason I became an astronaut, but it is a responsibility that I take very seriously," he says.

As a Chinese-American, Chiao has been nourished by two cultures.

"My parents always tried to teach us the best of both," he says, attributing his achievement to "the Chinese ethic of hard work and education and the American ethic of innovation of aspiration."

(China Daily 04/19/2005 page5)




Today's Top News
Top China News

Tang: Japan failed trust of the Chinese people




Spotting Great Wall from space IS possible




NPC to discuss Basic Law interpretation




Invitation for second Taiwan party chief




Agreements pave way for China-Australia FTA




Bush says raising retirement age a possibility