Japan foreign policy grates Asia neighbors
(Agencies)
Updated: 2005-04-18 09:45
In diplomatic tussles with its neighbors, Japan has long been inclined to turn the other cheek. Not lately, though.
In recent months, Japanese Prime Minister Junichiro Koizumi has talked tough with South Korea over disputed islets and reasserted Japan's claim to other islands held by Russia. While China and North Korea continue to criticize Japan over its World War II conduct, Japan is bluntly portraying those two countries as the real source of the region's problems.
"In the past, Japan always avoided taking a stand on diplomatic issues. But Japan has realized that tactic doesn't work, and its own public has criticized it as too weak," said Masaru Ikei, a professor of international politics at Keio University in Tokyo.
Japan's recent campaign for a permanent seat on the U.N. Security Council and approval of a textbook that critics say glosses over Tokyo's wartime aggression set off angry demonstrations in China. But instead of making the usual conciliatory gestures, Tokyo rejected the charges and demanded China apologize for allowing anti-Japanese protests.
Around 20,000 students and citizens went to the streets and joined the anti-Japanese protesting march Saturday in Shanghai.
Peaceful protests on Sunday in the southern cities of Shenzhen and Guangzhou drew thousands. In Shenzhen, as many as 10,000 people marched past a Japanese-owned department store calling for a boycott of Japanese goods.
China on Sunday rebuffed Tokyo's demands for an apology, saying it had never wronged the Japanese people but Japan had "hurt the feelings" of Chinese. Many Chinese believe Japan has never truly shown remorse for its prewar invasion of China.
Japan has stirred things up further by announcing it will prospect for natural gas in an area of the East China Sea where Beijing claims exclusive economic rights. And on Friday its Foreign Ministry issued a report accusing China of intruding into Japan's territorial waters last November. It said it was one of several moves that "threaten Japan's national security, sovereignty and other rights."
While the statement offered to settle matters through peaceful dialogue, Japan has also identified China's expanding military and its threats against Taiwan as top security concerns.
The flare-up comes amid longer-term frictions as the two countries compete for political and economic dominance in Asia. China is eager to translate its financial might into diplomatic muscle and a greater military presence in the Pacific. Japan wants a permanent seat on the U.N. Security Council, alongside China, Russia, the United States, Britain and France.
China is not the only country Japan is wrangling with.
In September, Koizumi took a provocative boat trip to the coast of the Russian-held southern Kuril islands in the North Pacific, and proclaimed them an "integral part of Japan," delighting his country's ruling conservatives.
Last month Japan began banning most North Korean ships from Japanese ports, demanding North Korea reveal more about its abductions of Japanese nationals in the 1970s and '80s.
It is also at odds with South Korea over a cluster of islands claimed by both sides.
The tougher posture reflects the bigger ambitions of the globe's second-largest economy. Tokyo has sent troops to Iraq, is considering revising its pacifist constitution, and is working with the United States on a joint missile-defense shield.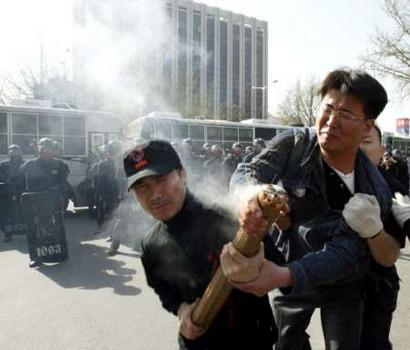 A plainclothes policeman (R) scuffles to take a firework away from former South Korean commandos during an anti-Japan protest near the Japanese embassy in Seoul April 15, 2005. Dozens of former commandos rallied on Friday against Japan's approval of its history textbook that critics say whitewashes Japanese militarism and its claims over a group of disputed islets, referred to as Tokto in Seoul and as Takeshima in Tokyo.[Reuters]

Despite Japan's flourishing trade with Asia, analysts say Koizumi has abandoned all pretense at currying favor with the neighbors.

"Japan's foreign policy isn't guided by philosophy or ideology ¡ª it's just nationalism. Koizumi is putting on a show for domestic constituents," said Takehiko Yamamoto, an international relations expert at Tokyo's Waseda University.

Still, Japan has picked its battles carefully, staying on friendly terms with Europe and above all the United States, which has more than 50,000 troops stationed in Japan under a decades-old treaty.

Indeed, Japan and the United States seem to be on the same page regarding China, North Korea and even South Korea, which disagrees with Washington about how to handle North Korea.

On defense and Security Council membership, "Japan's policies are a subset of U.S. needs," said Ronald Morse, professor of Japan studies at University of Nevada, Las Vegas.

"If you look at the environment, Iraq, U.S. base reorganization, beef, illegal prostitution, Taiwan," Japanese foreign policy "is all driven by Washington's actions," Morse said.

But Japan stands to lose a lot if it alienates its neighbors.

It needs China's acquiescence to win that Security Council seat. It has lobbied hard for Russian approval of a badly needed trans-Siberian oil pipeline. And it needs South Korea's backing in the international contest for a prestigious and job-generating nuclear fusion energy project.

"The way it's going, Japan might as well give up its ambitions of winning a permanent U.N. Security Council seat or the fusion energy project," said Yamamoto, the Waseda professor.




Today's Top News
Top World News

China tells Japan: Take 'concrete actions' on history




Japan foreign policy grates Asia neighbors




PM refutes EU arms embargo comments




Olympic Games advisers win new positions




Australia likely to grant MES to China




People urged to maintain social stability