Iraq-bound Australian troops start to arrive in Kuwait
(Agencies)
Updated: 2005-04-18 09:19
An advance group of some 40 Australian soldiers, part of a deployment of 450 extra troops, arrived at an airbase in Kuwait on their way to southern Iraq, a military spokesman said.
"The soldiers will prepare for the arrival of the main body of some 410 soldiers and officers over the next two weeks," Lieutenant Colonel Mark Elliott said.
The troops flew in to Ali Al-Salem Airbase, 70 kilometers (45 miles) northwest of Kuwait City, and will stay at US Camp Virginia, near the base, before leaving for Iraq.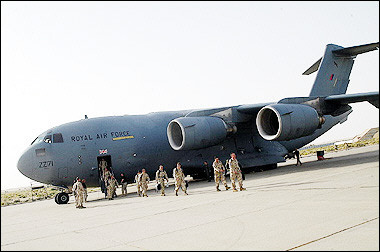 Around 43 Australian troops arrive at the Ali Al-Salem air base, 70 kms north of Kuwait City, the first of 450 troops on their way to Iraq to double the Australian military's presence there.[AFP]

The remaining troops will arrive in two batches and the whole operation is to be completed by early May, Elliott said. Their equipment is to arrive in Kuwait by sea and air.

The troops are to conduct exercises in the Kuwaiti desert before heading for Al-Muthanna province in southern Iraq, Elliott said.

Australian Prime Minister John Howard earlier Sunday gave a send off barbecue to the departing soldiers.

The new troops are being deployed to protect Japanese troops carrying out humanitarian work at Al-Muthanna, taking over from 1,400 homeward-bound Dutch soldiers who previously provided security for the Japanese.

Australia already has about 920 defence personnel serving in the Gulf, almost 450 of them in Iraq performing a range of duties including embassy security, maritime patrols and training the Iraqi army.




Today's Top News
Top World News

China tells Japan: Take 'concrete actions' on history




PM refutes EU arms embargo comments




Olympic Games advisers win new positions




Australia likely to grant MES to China




People urged to maintain social stability




Deaths spark calls for better safety methods