China tells Japan: Take 'concrete actions' on history
(Xinhua)
Updated: 2005-04-18 05:45
Chinese Foreign Minister Li Zhaoxing told visiting Japanese Foreign Minister Machimura Nobutaka on Sunday that China hopes Japan to take "concrete actions" to face up with and self-examine its history of invasion.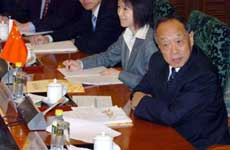 Chinese Foreign Minister Li Zhaoxing meets his Japanese counterpart Nobutaka Machimura, not seen in the picture, in China's capital Beijing on Sunday April 17, 2005. [AP]

Li held talks with Nobutaka after the Japanese foreign minister arrived in Beijing. Li stressed that the Chinese government and people attach great importance to the development of the friendly and cooperative relations with Japan.

In line with the spirit of "taking history as a mirror and looking forward to the future" and the three key political documents on bilateral ties, China hopes the two countries can co-exist peacefully, maintain friendship for generations to come, conduct cooperation on a mutually beneficial basis and seek commondevelopment, Li said.

"That will serve the long-term interests of the two countries as well as world peace, stability and development," said the Chinese foreign minister.

Li said the a correct view of history is a precondition for improving and developing China-Japan relations.

China hopes that the Japanese side will take concrete actions to foot its pledge of facing up with and self-examining its history of invasion, and stop doing things that would harm the feeling of the Chinese people so as to thoroughly tackle relevant problems, Li said.

For his part, Nobutaka said the Japanese government will adhere to the spirit of "taking history as a mirror and looking forward to the future" and develop Japan-China friendship from the viewpoint of the overall situation of bilateral ties.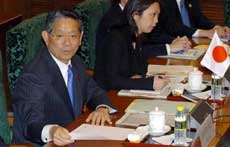 Japanese Foreign Minister Nobutaka Machimura meets with his Chinese counterpart Li Zhaoxing, not seen in the picture, in China's capital Beijing on Sunday April 17, 2005. [AP]

Japan highly spoke of Chinese Premier Wen Jiabao's recent remarks on developing Sino-Japanese relations in a press conference amidst the last annual session of China's National People Congress and is ready to work with China for the improvement and development of bilateral ties, he said.

Wen Jiabao told press last month that China and Japan should make joint efforts to create conditions for high-level exchanges of visits, the foreign affairs departments of the two countries should begin strategic study and research on strengthening and improving China-Japan relations, and problems left over from history should be properly handled.

In addition, the Chinese premier said the development of China-Japan relations should comply with the three principles of taking history as a mirror and looking forward to the future, Japanese support of the "one China" principle, and strengthening cooperation and pursuing common development.

Nobutaka said Japan's invasion into China in modern history brought great damage to the Chinese people. The Japanese side feels deep regret for that and once again expresses deep remorse and apology, he said.

The Japanese side will draw profound lessons from history and will continue to adopt a path of peaceful development, he said.

On the Taiwan issue, Li Zhaoxing told Nobutaka that the Taiwan issue is a problem concerning on "the core interest" of China's and relates to the feeling of 1.3 billion Chinese people. The adherence to the one-China principle lays the political foundationof the China-Japan relationship, he stressed.

The Chinese side strongly requests Japan to honor its promise and not do anything detrimental to China's sovereignty, Li said.

The Japanese foreign minister reiterated that Japan adheres to the one-China policy, and renders no support to "two Chinas", "oneChina, one Taiwan" or "Taiwan independence".

Both Li Zhaoxing and Nobutaka agreed that Sino-Japanese relations are important to both and the two sides should handle the relationship from long-term and strategic perspectives.

The two sides agreed to make joint efforts to safeguard world peace and stability, not pose any threat to the other and resolve disputes through dialogue.

They also agreed to actively seek and expand common interests, and continue to consolidate bilateral exchanges and cooperation invarious fields.

Li solemnly demanded the Japanese government take effective measures for guaranteeing the safety of Chinese institutions and citizens in Japan.

The two sides also exchanged views on international and regional issues of mutual interests.





Today's Top News
Top China News

China tells Japan: Take 'concrete actions' on history




PM refutes EU arms embargo comments




Olympic Games advisers win new positions




Australia likely to grant MES to China




People urged to maintain social stability




Deaths spark calls for better safety methods