Musharraf visits India amid cricket diplomacy
(Agencies)
Updated: 2005-04-17 09:57
NEW DELHI - Pakistani President Pervez Musharraf arrived in India on Saturday with a prayer for peace, urging his nuclear rival to seize a historic chance to end their dispute over Kashmir.
On his first visit since a failed summit four years ago and near-war over Kashmir in 2002, Musharraf's first stop was South Asia's most famous Muslim shrine where, dressed in a pink turban and white salwar-kameez, he prayed for peace and made an offering before flying on to New Delhi.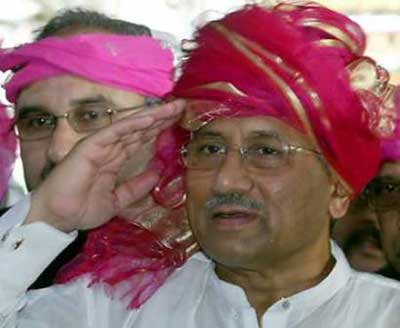 Pakistan's President Pervez Musharraf (R) salutes to people at the shrine of Sufi saint Khwaja Moinuddin Chisti in Ajmer, 78 miles south from Rajasthan's capital state of Jaipur, April 16, 2005. Musharraf arrived in India on Saturday for a weekend of prayers, peace talks and cricket, his first visit since a disastrous summit in 2001 and a sign of warming ties between the nuclear rivals. [Reuters]

"I come in an environment of harmony and cordiality ... an environment of which, historically, Pakistan and India have never seen the kind before," he told a state banquet hosted by Indian Prime Minister Manmohan Singh in the capital.

"People's wishes and aspirations have overtaken their leaders' and their governments'. Therefore, I think the (peace) process is irreversible."

The Pakistani leader's visit, originally planned as an informal trip to watch India and Pakistan play cricket on Sunday, has taken on the air of a summit, although both sides shy away from calling it one.

After more almost 60 years of hostility and three wars, no one is expecting a major breakthrough during his three-day visit.

Rather, the visit itself is a breakthrough, the latest in a slow and painful peace process begun two years ago this month.

Singh told the banquet it was time to find an "enduring" solution to all problems, including divided Kashmir.

"India, Pakistan and especially the people of Jammu and Kashmir have paid a heavy price in terms of peace and development because of the persistent conflict for the past half a century," he said.

"We must find practical ways and means to resolve all outstanding issues between us in a pragmatic manner cognizant of the ground realities."

As Musharraf prayed at the shrine of Sufi saint Khwaja Moinuddin Chist 370 km (230 miles) from New Delhi, India repeated an offer of a series of measures aimed at "softening" the ceasefire line dividing Kashmir.

These included designating points on the ceasefire line where divided families could meet, new bus services connecting Indian and Pakistani Kashmir and promoting Kashmiri trade and tourism.

"I come here with a message of peace," Musharraf said after praying.

The Indian-born Pakistani leader and the Pakistani-born Indian leader are due to hold their main talks on Sunday, after watching the start of the sixth and final one-day cricket match between their national teams.

Musharraf's visit comes days after the first bus service linking the two Kashmirs since war in 1947 and less than three years since India and Pakistan were on the brink of a fourth war.

The mood has improved since 2002, but both sides remain far apart on their most contentious dispute and Musharraf, while optimistic, has said he has limited expectations from this visit.

Violence has escalated in Kashmir in the run-up to the bus service and Musharraf's visit. The Indian army said 12 rebels and a soldier had died in fighting in the past day. Tens of thousands have died in a 15-year revolt against Indian rule.

Musharraf has suggested solutions for Kashmir that could involve dividing the mainly Muslim region along ethnic lines, demilitarisation, independence, joint control or U.N. control.

India rejects any redrawing of boundaries.

"We need to look at the ... (ceasefire line) not just as a divide but as a bridge," Indian Foreign Minister Natwar Singh told the latest edition of the Outlook news weekly.

"We need to work toward a situation where borders, even in our part of the world, begin to matter less and less," he added. Musharraf is also due to meet Kashmiri separatist leaders, who he says must be brought into peace process for it to work.

Musharraf recently gave Singh a photo album of the Indian leader's home village in what is now Pakistan, along with some of his school reports. Singh is to give Musharraf a special copy of his birth certificate.

Some newspapers report Musharraf may be a year older than he thinks, with the laminated birth certificate showing he was born in Old Delhi on Aug. 11, 1942, and his Web site saying 1943.

In Ajmer, on the edge of the Thar desert in Rajasthan state, security forces cleared worshippers from the shrine complex and swept it and the densely built area for bombs.

"The Khwaja stands for Hindu-Muslim unity and brotherhood," said Ashok Kumar, a 48-year-old Hindu music shop owner.

"Hopefully, by Musharraf coming here it will create a better climate for his talks with our prime minister and will soften him so he does not take a tough stand."




Today's Top News
Top World News

Iraq's Sunni militants take 100 Shiites hostage




China assures Japan, secures missions




EU fails to reach deal on lifting arms ban




G-7: Higher oil prices are a headwind




China becomes world's 3rd largest exporter




Chinese anxious to visit land down under