China assures Japan, secures missions
(Xinhua)
Updated: 2005-04-16 09:29
China considers Japanese leaders' Yasukuni shrine visit the crux of the matter that hinders bilateral relations especially when the two Asian countries are at odds over history textbooks and East China Sea issues.
"The Japanese leaders' Yasukuni shrine visit remains the most prominent issue hindering Sino-Japanese bilateral ties," said Chinese State Councilor Tang Jiaxuan in his meeting with Toyohiko Yamanouchi, president of Japan's Kyodo News Agency on Tuesday.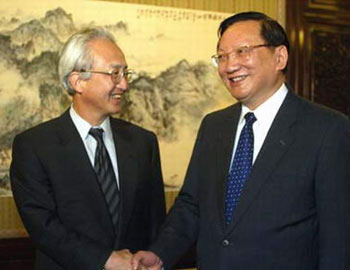 Chinese State Councilor Tang Jiaxuan in his meeting with Toyohiko Yamanouchi, president of Japan's Kyodo News Agency on Tuesday. [cnsphoto]
"It is the crux of the matter that has resulted in a suspension of the exchange of high-level visits between the two countries," Tang said. "We cannot evade the question (of Yasukuni shrine visits) if we want to improve bilateral relations."
The question should be dealt with properly and as soon as possible, said Tang, and the Japanese leaders themselves should make a political decision conductive to good overall bilateral relations.
The Asian neighbors are currently disagreeing on Japan's official adoption of a new edition of history textbooks, which China says gloss over its wartime atrocities.
"The essence of textbook issue is whether Japan can appropriately recognize and treat its militaristic history of aggression and instill in its young generation with a correct perception of that history," said Tang.
"Japan's stance on the textbook issue is directly related to Japan's future and Japan's image in the hearts of the people of its Asian neighboring countries and the world at large," said Tang.
China takes measures to protect security of Japanese agencies, citizens
Tang said that China has taken and will continue to take various measures to protect the security of Japanese diplomatic missions, enterprises and citizens in China in accordance with the law.
China-Japan relations have recently turned tense due to historical and territorial issues. Last week the Chinese public were infuriated by the approval of a controversial new version of history textbook by the Japanese government.
Thousands of Chinese, including college students, took to the streets in Beijing and several cities in south China last weekend to voice their anger over the new textbook.
"The Chinese government has attached great importance to the situation and has kept on urging the public to express their appeals in a calm, sane, law-abiding and orderly manner and to avoid extreme activities," Tang was quoted as saying.
Tang, China's former foreign minister, told Yamanouchi that China had made great efforts in preventing the issue from escalating. "A large number of police personnel have been deployed to secure the safety of Japanese agencies and citizens in China."
The state councilor said the Chinese government "didn't approve of" and "didn't want to see" the extreme activities which occurred sporadically during the process of public protests.
However, he pointed out that such incidents had reflected that China-Japan relations were faced with a "grave and complex situation" which deserved "sufficient attention from both sides".
"If we judge things out of context, the problems will only become more complicated, which will not benefit the long-term development of China-Japan relations," said Tang, calling on both sides to "find out the deep-rooted reasons" for such incidents in order to appropriately resolve the issue.
Tang said it was regrettable that some people in Japan alleged the extreme activities were supported by the Chinese government and had resulted from the so-called "anti-Japanese education" by the Chinese government.
"I have to point out here that such allegations are totally groundless and a serious distortion of truth," he said. "It is quite normal for any country in the world to carry out patriotic education on it people, but China's patriotic education is by no means an anti-Japanese education."
"China has never tried to instill such sentiments as repulsion or hatred toward Japan into its general public," said Tang. "We only ask our people not to forget historical lessons so as to avoid the recurrence of historical tragedies, and we have always emphasized that peoples of both countries should look forward into the future and be friends forever."
Tang said China had never viewed the broad masses of the Japanese people as the same as a few militarists who started the war of aggression against China 60 years ago, and had never held the opinion that the people in Japan today should be blamed for their country's history of invasion.
"This point was made clear a long time ago by the first generation of Chinese leaders," said Tang, citing the remarks of late Chinese Premier Zhou Enlai, who said upon the normalization of Sino-Japanese ties in 1972 that both the Chinese and Japanese peoples were victims of the aggressive war launched by the Japanese militarists.
"For many years, China has been educating its people in this way, trying our best to make a correct guidance of the general public," he added.
The state councilor went on to say that the recent demonstrations by some people in China were actually triggered by the Japanese government's adoption of the new right-wing history textbooks, which "tampered with history and beautified aggression",and were aimed at preventing Japan from becoming a permanent member of the United Nations Security Council.
Comparing Japan with Germany, Tang said that while Germany had promulgated laws to prohibit any reversal of the historical verdicts on Nazi fascism, Japan had allowed the publication of right-wing history textbooks to whitewash its history of invasion.
"In as early as the 1970s, former German Chancellor Willy Brandt got down on his knees before the Holocaust monument in Warsaw to show his country's repentance. But the Japanese prime minister is still visiting the Yasukuni Shrine (where 14 Class A war criminals of World War II are honored) every year. How sharp the contrast is!" said Tang.
"The Chinese people really can't understand how a nation which cannot honestly look at its aggressive history and which cannot correctly understand the feelings of the people of the countries it victimized could be qualified to bid for a permanent seat on the UN Security Council," he said.
"This is not only the feeling of the Chinese people, but also acommon feeling shared by the people of Japan's other neighboring countries," said Tang.
Tang said that Japan, which once showed an attitude of remorse and apology toward its aggression past and once expressed understanding of and respect for the feelings of the victims of war, now "tends to overemphasize the factor of internal politics while turning a blind eye to the feelings of its neighbors".
"Nowadays the Japanese government only stresses that the visit to the Yasukuni Shrine by its prime minister is a matter of national and cultural tradition, and that it has no power to intervene in the history textbook issue. It also pays no attentionto the sentiments of the people in the neighboring countries, regarding them as so-called external interference," he noted.
"With such foreign policy, how could Japan win trust and support from its neighbors and from the international community?" asked Tang.
Japan urged to win popular support on UN Security Council bid

Tang urged Japan to win political trust and popular support from its neighboring countrieson its bid for a permanent seat of the United Nations Security Council.
"Japan's bid UN Security Council permanent membership is not merely a question of voting, but a question of political trust and popular support," said Tang.
China understands Japan's aspiration to play a bigger role in the international community, but if Japan wants to become a member of the UN Security Council, it should first of all do more to win the political trust and recognition from people of its neighboring countries, Tang acknowledged.
On enlargement of the UN Security Council, China perseveres in its position that consensus should be reached through consultations, said Tang, reminding if disputes and even splits incurred thereafter in the world body, the image of the UN will be impaired and the role of the UN affected.
Acknowledging that the UN reform should be multi-dimensional asthe world today is faced with various kinds of threats and challenges, Tang said, and the reform should not be confined to issues of interest only to a few nations and, in implementing the millennium development goals, ample attention should be given to the reasonable concern of the developing countries and therefore this should be focus of the reform.
East China Sea issue dispute

Shelving disputes and engaging in joint development is the sole correct choice for China and Japan in addressing the East China Sea issue, according to Tang.
"China and Japan have disputes on boundary demarcations in the East China Sea, and this is an objective reality," Tang said, adding that China always maintained to resolve the disputes through negotiation.
The Japanese government Wednesday initiated procedures to grant Japanese firms the right to conduct test drilling for potential gas and oil fields to the east of the so called "demarcation line" in the East China Sea.
Any unilateral action like this would make the situation more complex and acute and even lead to a fundamentally change in the nature of the issue, said Tang.
Nevertheless, Tang said he was still convinced that cooperation with mutual benefits could be achieved provided both sides treat and handle the issue proceeding from an overall perspective.
"Challenges can be transformed into opportunities and mutual cooperation will be materialized, so that the East China Sea will be turned truly into a sea of friendship, and a sea of cooperation instead of a sea of conflicts," Tang said.
Today's Top News
Top China News

Foreign Ministry opens house to public




Law 'eases tensions' across Straits




Rich or poor, cancer is nation's biggest killer




China assures Japan, secures missions




China becomes world's 3rd largest exporter




EU fails to reach deal on lifting arms ban