UK police hunt for 3 missing Chinese girls
By Guo Nei (China Daily)
Updated: 2005-04-16 05:49
The hunt is on for three teenage Chinese girls who arrived in Newcastle in the United Kingdom on a flight from Paris, travelling on false Japanese passports.
They have not been seen for two weeks and fears are mounting they could be in the hands of human traffickers, although local police say there is no evidence they have been forced into prostitution since they went missing.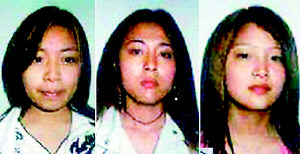 This police handout photo shows the three missing girls (from left to right) Lin Xiu King, He Yun Jin and Weng Miu Fang. [sina]
"We are keeping close contact with Newcastle police and we are also making appeals to find the three youngsters," said an official from the Chinese Consulate General in Manchester on Friday.
"We were told (by local police) that the three missing girls speak mandarin but we're still waiting for final confirmation of their identities," he said.
The three missing girls, identified by local police as Weng Meifang, 15, and 16-year-olds Lin Xiuming and He Yunjin, were detained by immigration officials at Newcastle Airport. The claimed asylum and were then put into the care of social services on March 27.
They were given temporary accommodation in a house in the Elswick area of Tyneside under the supervision of social workers since local councils have a duty of care to asylum seekers.
But they vanished on March 30.
The official said the welfare of the girls is their first concern and extensive inquiries have been made to trace them.
Police have handed out their photos and talked to people in local Chinese communities.
Juliet Singer, of the National Missing Persons Helpline in Britain, said: "These girls, not yet adults, could suffer long term, both physically and mentally from the abuse that may follow their disappearance."
"Not only that, they are missing from their families who may have no idea of their distress or whereabouts," she said in a statement.
Detective Chief Inspector Jim Napier, of Northumbria Police, who is leading the hunt for the girls, said: "This is primarily a missing persons' inquiry and that is still how we are treating it."
"We know nothing about their movements prior to arriving in this country," Napier told local media. While there are concerns these girls could end up being exploited there is currently no evidence to suggest that is the case, he said.
Earlier reports said children as young as 10 were being smuggled into Tyneside by criminal gangs.
(China Daily 04/16/2005 page1)
Today's Top News
Top China News

Foreign Ministry opens house to public




Law 'eases tensions' across Straits




Nation's riot police join peace mission in Haiti




Rich or poor, cancer is nation's biggest killer




UK police hunt for 3 missing Chinese girls




Steps taken to ensure rational use of land