EU to apply 'safety clauses' on China textiles
(Agencies)
Updated: 2005-04-15 08:45
PARIS (AFP) - French President Jacques Chirac said the EU would within a fortnight take measures to stem the flow of Chinese textiles into Europe.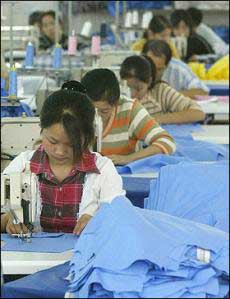 Chinese women work at a textile company in this 2004 file photo. The European Union's executive arm hopes China will impose voluntary restrictions on its textile exports by June if the EU opens a probe on April 25 into a surge of imports from the Asian giant. [AFP]

"There is every reason to think, and in any case it is the position of France and I am sure we will be followed on this, that (European Union) safety clauses will be applied within 10 to 15 days," he told French television.

The European Commission said earlier Thursday it aimed to decide on April 25 whether to launch an investigation into booming Chinese textile imports, the first step towards applying limits allowed under World Trade Organisation rules.

Europe's textile industry is pressing the commission, the EU executive, to impose safeguard measures to curb a flood of Chinese imports that followed the end of a global quota system on January 1.

"There was clearly a brutal and unacceptable invasion of the European market and of the American market by Chinese textiles, beyond what is acceptable within the framework of free trade," Chirac said.

"The Americans ... have already reacted and have imposed safety clauses," he added.

The US government took its first step toward curbing Chinese textile imports last week by announcing a review to determine whether the recent surge in Chinese imports had disrupted the US market.

The EU unveiled guidelines last week that could lead to limits on Chinese clothing imports if probes reveal that they have grown too quickly since the end of the quota system.

On January 1, a 31-year-old textile quota system expired, leaving producers in developed and developing states bracing for a wave of imports from China, whose manufacturers benefit from cheap labour and huge economies of scale.

French Prime Minister Jean-Pierre Raffarin will travel to China next week for an official visit focusing on bilateral economic and cultural ties, his office said this week.






Today's Top News
Top China News

Schroeder's advice to Japan: Be self-critical of history




Cancer chemical in French fries and coffee?




Koizumi calls for dialogue on oil dispute




Standards released for State firm buyouts




Fake milk powder severely sickens infant




EU to apply 'safety clauses' on China textiles