India sees no breakthrough in talks with Musharraf
(Agencies)
Updated: 2005-04-14 16:21
India neither expects talks with Pakistani President Pervez Musharraf this weekend to produce a dramatic breakthrough nor break down a peace process, a top Indian official said in remarks published on Thursday.
Indian National Security Adviser M. K. Narayanan said New Delhi was also not sure what Musharraf was looking to achieve during his talks with Prime Minister Manmohan Singh as he had not made any clear proposals to resolve the Kashmir dispute.
Musharraf is due to visit New Delhi to attend an India-Pakistan cricket match on April 17 and also meet Prime Minister Singh to boost a stumbling peace process between the nuclear-armed neighbours.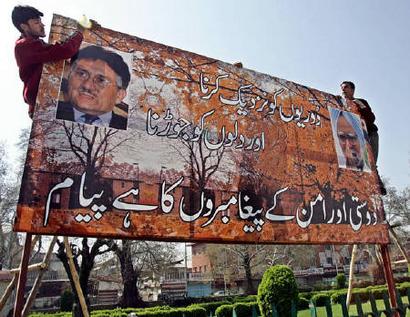 Kashmiris install a hoarding with pictures of Indian Primer Minister Manmohan Singh (R) and Pakistan President Pervez Musharraf (L) and with a message for peace in Urdu days before the start of the first historic bus service between the capitals of Indian and Pakistan administered Kashmir, in Srinagar April 2, 2005. [Reuters]

It would be the Pakistani leader's first visit to India since a failed summit in 2001, after which the South Asian rivals teetered on the brink of a third war over their dispute over the Himalayan state of Kashmir.

"Expect neither a dramatic breakthrough nor a breakdown," Narayanan said in an interview to the Hindu newspaper.

"On the table, Pakistan has produced very few proposals on Kashmir. We remain unsure what the General ... wants," he said.

"The Pakistani president has not come out openly to suggest A, B, C. He keeps talking in broad terms of the wishes of the people of Jammu and Kashmir," Narayanan said. "Does he know what the people of Jammu and Kashmir want?"

Ties between India and Pakistan have warmed since they launched a fresh bid to make peace in 2003.

Last week, the peace process produced what is seen as its most tangible gain when the neighbours launched a bus service linking Indian and Pakistani Kashmir, reuniting divided families there for the first time in nearly 60 years.

Both India and Pakistan claim Kashmir in full and show no signs of a compromise. India accuses Pakistan of stoking a 16-year revolt in Kashmir, its only Muslim majority state, a charge denied by Pakistan.

Last year, Musharraf suggested the division of Kashmir on ethnic lines, demilitarise it and change its status, either towards independence, joint control or even U.N. control.

But Singh firmly rejected the plan, saying New Delhi would not agree to any redrawing of boundaries.

Narayanan reaffirmed India's stand on the proposals.

"We are not afraid of discussions though the prime minister has already laid down the parameters: no change of boundaries," he said.

Narayanan held out hope of a cut in Indian forces in Kashmir if peace held in the Himalayan region.

"If the level of violence comes down, and if the infiltration (of guerrillas) remains low ... then the level of Indian forces can come down," he said.




Today's Top News
Top World News

FM: Japan's sea drilling plan 'a serious provocation'




Lien's visit poised to improve exchanges




Schroeder to Japan: Be self-critical of history




IMF urges China to rein in booming economy




Wrongly jailed man freed after 11 years




Lebanon PM quits, says time for elections