Roh: North Korea collapse unlikely, undesirable
(Agencies)
Updated: 2005-04-14 15:15
North Korea is unlikely to collapse any time soon and such an event should not be encouraged, South Korean President Roh Moo-hyun said on a trip to Germany.
"The possibility of a sudden collapse is very low," Roh said Wednesday after meeting South Korean residents in Germany. "And we don't intend to encourage it either."
The text of his remarks was provided by his office in Seoul.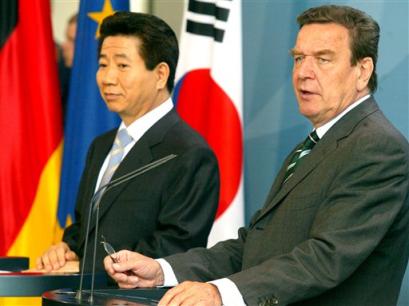 President of South Korea Roh Moo-hyun, left, and German Chancellor Gerhard Schroeder, right, brief the media after their talks in the Chancellery in Berlin, Wednesday, April 13, 2005. [AP]

He said the remote chance of a swift collapse made the Korean situation different from Germany's experience in unification.

"Even if there is a certain situation in North Korea, I think there is an internal organizational ability to manage the situation," he said.

Successive administrations in Seoul have pursued unification with the North as a top priority since the end of the Korean War, but rising economic disparity has fueled concern in the South about the impact of such an occurrence.

Some analysts have cited the cost of unification to be as high as $1.8 trillion and said it could break the South's economy, the third largest in Asia, and scupper decades of development.

The South is more than 30 times as prosperous as the North and twice as populous.

Roh's unification policy is built around the premise that aiding the North's economy would soften the impact when it eventually comes.

But aid from the South and international assistance have slowed since a North Korean nuclear crisis flared in late 2002.

Three rounds of talks by the North and South Korea, the United States, Japan, Russia and China on dismantling the North's nuclear weapons programs have been held.

The last round was in June and a fourth round has not materialized after Pyongyang sought political concessions from Washington.

"North Korea is willing to give up its nuclear programs," Roh told the meeting in Germany.

He said Pyongyang and Washington distrusted each other but were in agreement on how to resolve the problem -- security guarantees and economic aid for the North in return for dismantling its nuclear programs.

"They don't seem to trust each other," Roh said. "But distrust is not a problem of substance, so it will be resolved if you talk long enough," he said.




Today's Top News
Top World News

FM: Japan's sea drilling plan 'a serious provocation'




Lien's visit poised to improve exchanges




Schroeder to Japan: Be self-critical of history




Wrongly jailed man freed after 11 years




Farmers' income up; urban-rural gap widens




Lebanon PM quits, says time for elections