Rumsfeld meets US ally Musharraf in Pakistan
(Agencies)
Updated: 2005-04-14 14:37
US Defence Secretary Donald Rumsfeld held talks with Pakistani President Pervez Musharraf, a key ally in Washington's war on terror, officials said.
"They discussed anti-terrorism, bilateral and regional issues," Pakistani foreign office spokesman Jalil Abbas Jilani said on Wednesday. He did not give any further details.
Rumsfeld flew in from Kabul where he met President Hamid Karzai for talks on the security relationship between Afghanistan and the United States. Earlier Wednesday he had left Iraq.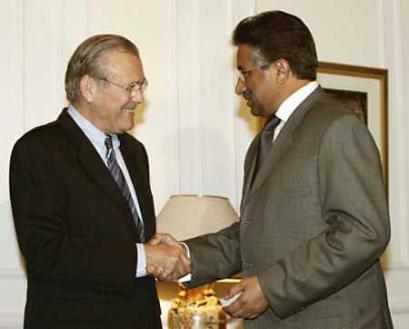 US Secretary of Defense Donald Rumsfeld meets with Pakistan President Perez Musharraf in the Army House, his official residence, in Islamabad April 13, 2005. Rumsfeld held talks with Musharraf as a security threat kept the American consulate in Karachi closed for another day. [Reuters]

"Al-Qaeda will be a subject that we will be discussing," Rumsfeld said ahead of his meeting with the Pakistani leader.

Since Musharraf allied himself with Washington after the September 11, 2001 attacks on the United States, Pakistan has arrested around 700 Al-Qaeda suspects.

Pakistan's major catches have included chief 9/11 planner Khalid Sheikh Mohammed and Tanzanian Ahmad Khalfan Ghailani, who was on the FBI's most wanted list for the 1998 bombing of US embassies in East Africa.

US officials believe Al-Qaeda mastermind Osama bin Laden is hiding on the mountainous border between Pakistan and Afghanistan.

Rumsfeld's visit came as the US consulate in the southern Pakistani city of Karachi was closed for a second day after receiving a warning that militants planned to attack it.

The consulate was targeted by a suicide car bomb in June 2002 which killed 12 Pakistanis and there have been a number of other attacks on the building and on US and foreign targets in the city.

Last month the United States announced plans to sell sophisticated F-16 jets to Pakistan despite objections from Islamabad's nuclear rival India.

Rumsfeld is not due to visit India on his swing through a number of mainly Central Asian states.

However US officials said that New Delhi, which is sensitive to Pakistan's relationships with the major powers, should not perceive this as "any slight or snub".

In March US Secretary of State Condoleezza Rice visited both India and Pakistan, in another example of the the current US administration's moves to examine new geopolitical options.




Today's Top News
Top World News

FM: Japan's sea drilling plan 'a serious provocation'




Lien's visit poised to improve exchanges




Schroeder to Japan: Be self-critical of history




Wrongly jailed man freed after 11 years




Farmers' income up; urban-rural gap widens




Lebanon PM quits, says time for elections