Rivalries overwhelm debate on U.N council
(Agencies)
Updated: 2005-04-14 10:00
Since the United Nations was born in the aftermath of World War II, powerful nations have gathered in the chambers of the Security Council to tackle the world's most intractable conflicts.
Now, several countries with global clout in the new century are seeking to join this elite group. But their quest has become embroiled in highly public spats with traditional rivals determined to keep them out.
The escalating rhetoric between India and Pakistan, and China and Japan in particular, has yanked attention away from Secretary-General Kofi Annan's larger push to overhaul the United Nations. Officials and longtime observers worry their dispute could stall those reforms, which would be the most sweeping in the world body's 60-year history.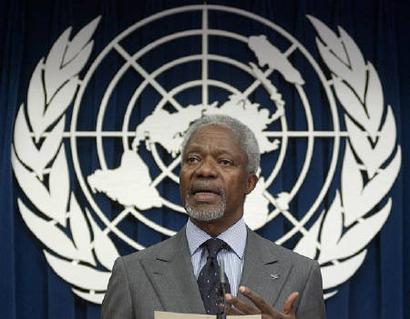 U.N. Secretary General Kofi Annan seen during a news conference in New York, March 29, 2005. Annan's reform proposals drew a barrage of criticism on Wednesday from developing states wary of too much emphasis on military intervention and too little on fighting poverty.[Reuters]

Even less antagonistic rivals like Germany and Italy, and Brazil and Mexico, have turned up the heat, showing just how much they have at stake in the reform.

"The real issue is that the decibel level has gone up significantly, and that is not constructive," said Robert C. Orr, the U.N. assistant secretary-general for planning and one of the architects of the reform package. "I think that if countries would start to lower the decibel level it would advance the interests of all concerned."

Annan has urged world leaders to adopt the whole package at a September summit. He wanted them to settle the question of Security Council reform before the leaders gathered, preferably by consensus but, if that was not possible, by a vote in the General Assembly. That vote now appears less likely.

Long before Annan proposed his reform package last month, two rival proposals to expand the 15-member Security Council were on the table.

One proposal would add six permanent seats; Japan, Germany, India and Brazil have joined forces to lobby for its adoption. The other would add eight semi-permanent seats, and is supported by Pakistan, Italy, Mexico, South Korea and several others.

But China, a permanent member of the council with veto power, indicated it opposes giving a permanent seat to Japan. Increasing hostilities between Tokyo and Beijing also have centered on controversy over a new Japanese textbook that critics say whitewashes Japanese military abuses during the early 20th century.

China has hinted it might veto Japan's bid, a move that would likely ruin any prospect for Security Council reform this year. On Tuesday, Chinese Premier Wen Jiabao raised the issue during a meeting with leaders in India, which is also seeking a permanent seat.

"Only a country that respects history, takes responsibility for history and wins over the trust of peoples in Asia and the world at large can take greater responsibilities in the international community," Wen said.

Even more troubling for proponents of U.N. reform, China has done little to stop heated anti-Japan protests by thousands of Chinese civilians in recent weeks. That could make it harder for the Chinese government to back down on Security Council reform later on.

"It's a real hornet's nest and one that has the capacity to wreck everything," said Stephen C. Schlesinger, author of a recent book on the founding of the United Nations. "I don't think that compromise is in the cards for a country like China."

The issue of reform has lingered since the mid-1990s when a U.N. commission called for an overhaul of the council, which is generally regarded as outdated. The council's composition still reflects the era during which the United Nations was created in the shadow of World War II. Germany, Japan and Italy, on the losing side of the war, were excluded from permanent posts.

In its current form, the council has 15 members, five of which — Britain, China, France, Russia and the United States — are permanent and are entitled to veto resolutions. There are also 10 spots reserved for temporary members elected to two-year terms.

Almost all the United Nations' 191 member states agree that the council does not reflect the rise in power of the developing world. Since World War II, Japan has become the world's second-largest economy, and Brazil and India are booming.

The council was expanded once in 1963, but figuring out how to change it has been something no one can agree on. None of the current members wants to lose any power, while many nations do not want anyone else to have new influence, either.

"We do not want new centers of power," Inam ul Haque, a special envoy to Pakistani President Gen. Pervez Musharraf, said this week, without mentioning India directly. "Countries should eschew efforts to acquire a great power status."

Germany, one of the top five world economic powers, has long coveted a permanent seat, angering Italy, its economic and political rival in Europe.

Within the United Nations, some officials say that the intensity of the debate shows just how much importance member states give to reform.

"Let's see if some of the hard positions that you see being taken now are not merely opening positions in what will be a serious effort to reach agreement on Security Council reform by September," Annan spokesman Fred Eckhard said.

Besides council reform, Annan's package advocates several other major changes. Among them, Annan asks rich countries to set aside 0.7 percent of gross national product for development; seeks the creation of a U.N. Human Rights Council; and urges nations to commit themselves to intervene to help victims of genocide or other crimes against humanity.




Today's Top News
Top World News

Lien's visit poised to improve cross-Strait exchanges




FM: Japan's drilling plan 'serious' provocation




Wrongly jailed man freed after 11 years




Farmers' income up; urban-rural gap widens




Schroeder to Japan: Be self-critical of history




Lebanon PM quits, says time for elections