Schroeder to Japan: Be self-critical of history
(DPA)
Updated: 2005-04-14 09:33
BERLIN - German Chancellor Gerhard Schroeder, in a thinly veiled message to Japan, said on Wednesday the best way to deal with history was to be "sensitive and self-critical".
"Every country must find its own way to deal with the good sides as well as the darker sides of its history," said Schroeder at a joint news conference with South Korean President Roh Moo Hyun on Wednesday.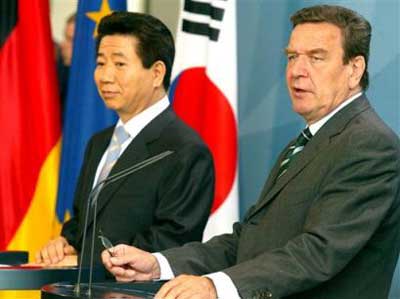 President of South Korea Roh Moo-hyun, left, and German Chancellor Gerhard Schroeder, right, brief the media after their talks in the Chancellery in Berlin, Wednesday, April 13, 2005. [AP]

Asked by a reporter what Asia could learn from Germany in terms of dealing with the past, the Chancellor insisted he could not tell other nations how to behave.

But he added: "I can give you a German experience. With a sensitive and self-critical manner of dealing with your own history you will not lose friends but rather win friends. This is the experience we have made."

Germany has since 1945 made huge efforts to recognise, compensate and remember Nazi war crimes. Berlin has paid out billions of euros to Third Reich victims and next month will open a huge Holocaust memorial in the centre of the German capital.

There have been angry protests in China over the past week aimed at what critics see as Japan's side-stepping of its heinous crimes such as wanton slaughtering of civilians and germ wars in China, during the Second World War.

South Korea has also long been critical over Japan's manner of dealing with its past.

"If there are problems they should not be swept under the carpet - we should talk about them and solve them," said President Roh.

Roh underlined that the current discord with South Korea and China taking aim at Japan must not be allowed to become an international burden.

Roh and Schroeder discussion of UN reform was less harmonious, however.

"This is the only area where we have differences," said Roh after meeting the German leader.

South Korea supports a UN reform known as 'Plan B' which would create a new category of semi-permanent Security Council seats chosen through regional elections for four-year terms.

Germany, on the other hand, is seeking a permanent seat on Security Council under 'Plan A' which would create six new such seats which are also being claimed by Japan, Brazil and India.

South Korea fears that creating more permanent UN Security Council seats will delay overall reform of the United Nations. The UN currently has five permanent Security Council members: Britain, China, France, Russia and the US.

Seeking to smooth over the disagreement, President Roh said that if Plan B was adopted he would naturally support a German candidacy.




Today's Top News
Top World News

Bush: China a great nation growing like mad




Schroeder to Japan: Be self-critical of history




Cancer chemical in French fries and coffee?




Koizumi calls for dialogue on oil dispute




Standards released for State firm buyouts




Fake milk powder severely sickens infant