Gaza settlers ready for resistance
(Agencies)
Updated: 2005-04-14 09:25
Jewish settlers in Gaza have collected hundreds of tents and are stockpiling food for thousands of supporters they expect to arrive in coming days to help resist this summer's evacuation.
Piles of hundreds of tents, sleeping bags and cans of food are seen in a Gaza warehouse Wednesday, and settlers said more is on the way.
Removal of the 21 settlements from Gaza and four from the West Bank is shaping up as a traumatic social episode in Israel's history.
There are warnings of opposition, even armed resistance, against thousands of police and soldiers who are to take down veteran settlements in those territories for the first time.
Israeli Prime Minister Ariel Sharon, winding up a visit to the United States, told NBC News earlier this week that the atmosphere around the pullout "looks like the eve of the civil war."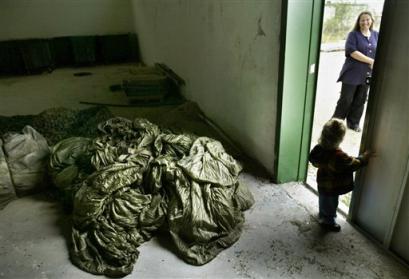 Gaza settler Datya Yitzhaki is seen outside a warehouse as a pile of tents collected by her and her husband is seen inside in the Jewish settlement of Neve Dekalim Wednesday April 13, 2005. Jewish settlers said Wednesday they plan to bring thousands of supporters to the Gaza Strip for the upcoming Passover holiday, and that they have collected hundreds of tents to allow many of the visitors to remain to resist this summer's planned evacuation from the Gaza Strip and four West Bank settlements. [AP]

On Wednesday, Sharon told CNN he favored leaving the buildings in the settlements intact after the pullout but that depended on coordination with the Palestinians, which had not started yet.

Palestinian Foreign Minister Nasser Al Kidwa complained to CNN that Israel had not given the Palestinians information about the buildings, adding "there should be no reward for any of the assets, because they were established illegally."

Settlers expect huge crowds to gather in Gaza to show solidarity during the weeklong Jewish holiday of Passover this month — and organizers are preparing for many of them to stay and oppose the evacuation, set for July.

The army says it has no intention of stopping the influx, even though the presence of thousands of protesters would further complicate the operation. There are plans to close the area in the weeks before the pullout.

Settler spokesman Eran Sternberg said organizers hope to bring 100,000 supporters to Gush Katif, the main Gaza settlement bloc, for Passover. He said police have issued permits for the gatherings, including concerts and marches.

Preparing for the friendly invasion, Gaza settler activist Datya Yitzhaki said she and her husband Arye have set up a "war room." An inspection of the warehouse showed hundreds of tents, parachute material and piles of canned food.

Arye Yitzhaki said the plan is to "pitch a tent in every backyard in Gush Katif." They said they expected hundreds of families and youths to stay in Gaza after the holiday.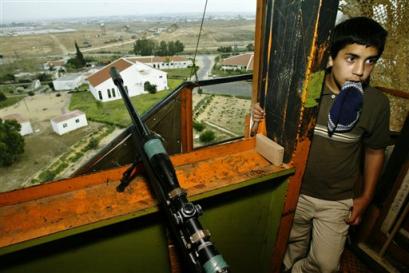 An Israeli boy stands in a watchtower overlooking the Jewish settlement of Morag in the southern Gaza Strip Wednesday April 13, 2005. Israeli Prime Minister Ariel Sharon has offered to leave homes in the Gaza strip settlements intact if the Palestinians cooperate with Israel during the Gaza pullout this summer.[AP]

Datya Yitzhaki said more equipment was to arrive next week, including generators and refrigerators.

To accommodate the reinforcements, Gaza residents are refurbishing abandoned buildings, shacks and barracks.

Official settler leaders have expressed their opposition to the evacuation in the strongest possible terms, even employing comparison with the Nazi Holocaust, when 6 million Jews were killed.

While the leaders say their resistance will be nonviolent, security officials have been warning that extremists among the settlers or their backers might open fire on troops and police, try to assassinate Sharon or attack a Muslim holy site in bids to stop the pullout.

Talking to U.S. newspaper editors, Sharon offered to leave homes in the Gaza strip settlements intact if the Palestinians cooperate with Israel during the pullout. Israel had initially planned to destroy all the emptied settlements.

Israel's Housing Ministry is preparing to offer temporary housing to the evacuated Gaza and West Bank settlers. Kobi Bleich, ministry spokesman, said the ministry plans to install 500 mobile homes and rent 600 apartments in the southern Negev Desert region for the settlers.

The settlers will be able to live rent-free in the temporary housing for 18 months, Bleich said. Infrastructure work for the mobile homes is to begin next week, and evacuees will have the option of building permanent housing on those sites, he added.

In the West Bank village of Tsurif near Hebron on Wednesday, dozens of Palestinians surrounded an overturned Israeli army jeep and threw stones at trapped soldiers who fired tear gas, rubber bullets and live rounds, witnesses and the military said. Five Palestinians were hurt, including two by shots to the legs and one who was in serious condition after being hit in the head by a tear gas canister, doctors said. Two soldiers were hurt by rocks, the army said.

Meanwhile, Palestinian leader Mahmoud Abbas continued removing officials associated with his predecessor, Yasser Arafat. Palestinian officials said Abbas has appointed Ramzy Khoury, Arafat's top aide, to a minor PLO post.




Today's Top News
Top World News

Lien's visit poised to improve cross-Strait exchanges




FM: Japan's drilling plan 'serious' provocation




Wrongly jailed man freed after 11 years




Cabinet thumbs up for economic policy




Farmers' income up; urban-rural gap widens




China's stocks regulator ready to act