In Iraq, US official hears gripes
(Agencies)
Updated: 2005-04-14 09:13
The US State Department's No. 2 official prodded local leaders in Fallujah on Wednesday to describe the city's most urgent needs. They gave him an earful — of complaints.
Robert Zoellick, the most senior Bush administration official to venture into the former insurgent stronghold since Marines captured it last fall, sought to assess the political landscape and zero in on reconstruction priorities.
His visit came as the State Department sharpens its diplomatic campaign to help the country rebuild its infrastructure and tattered economy. US Secretary of State Condoleezza Rice has made Iraqi reconstruction a priority.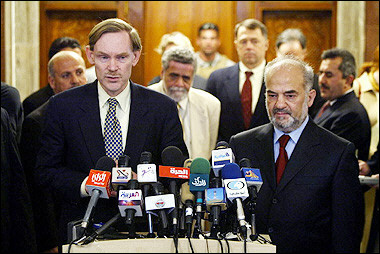 Iraqi Prime Minister designate Ibrahim al-Jaafari (R) and US Deputy Secretary of State Robert Zoellick speak to reporters during the US official's surprise visit to Iraq.[AFP]

But Fallujah's civic leaders had a message for the United States: Progress is far too slow and more money is needed.

"We ask of you, please, that you get involved in the situation of the Fallujah people. You guys did this with your own blood, risked your life, for this situation," Mohamed Jassam, the interim city council's vice chairman, pleaded during a meeting with Zoellick.

Zoellick spent an hour with Fallujah's interim city council leaders at a secure military compound in the heart of the city. He wore a business suit — with a flak jacket beneath it.

At first, Council Chairman Shaik Khalid Hamood Mahel al Jumaly, thanked the United States and praised the U.S. Marines for ridding the city of insurgents.

"The city of Fallujah has taken its first step toward reconstruction," he proclaimed through an interpreter. "It wants to move forward and be rebuilt."

But the rhetoric changed minutes later, after Zoellick asked how life was returning to normal in Fallujah.

Seizing the opportunity of having a high-ranking U.S. official before them, council members rattled off a slew of complaints about the aftermath of combat in their hometown.

They told of unsafe drinking water, an inadequate sewer system, little food aside from rationed goods, difficulties in setting up open-air markets, and delays in reimbursements for owners of destroyed homes. They fretted about few available jobs, clashes between residents and troops and the hassles of military checkpoints at city gateways.

After listening intently, Zoellick sought to empower the city council to lead efforts to reconstruct Fallujah even as the United States and the new Iraqi government contribute to the effort.

"To bring a city back to life, it has to be done by the people of that city," he said. "I know it won't be easy. There will be many days of frustration, even threats. We can help, but you have to make it happen."

While in Fallujah, Zoellick had expected to tour a recently restarted water pumping station and a bread-making factory to observe signs of the city's progress.

However, during a brief swing through the city, Zoellick was confined to an armored transport vehicle — except for the meeting with civic leaders — after Marines said the security situation in the city remained tenuous.

Still, as his military caravan wove through the city past debris from bomb-shattered houses on each city block, there were signs of the potential for rebirth.

Mosques, untouched by Marines during the offensive, still stand amid groves of palm trees. Children run from their homes to wave to Marines on patrol.

A commercial district that includes a market, a cafe, a service station and a bakery bustles. Tractors and backhoes stand by, ready to rebuild.

The State Department says about 90,000 Fallujah residents have recently returned to their city 40 miles west of Baghdad. Officials say water is now available in most parts of the city, electricity has largely been restored in high-damage areas and three of five hospitals are open.

While in Iraq, Zoellick also met privately with the new Iraqi leadership — interim President Jalal Talabani, parliament speaker Hajim al-Hassani, designated Prime Minister Ibrahim al-Jaafari — as well as outgoing interim Prime Minister Ayad Allawi.

Zoellick, between visits to Norway and Sudan to press U.S. policies toward the African country, arrived in Iraq a day after Defense Secretary Donald H. Rumsfeld visited. The two did not cross paths.

Marines ousted insurgents from Fallujah last November. A month later, Rumsfeld visited troops at Camp Fallujah, just outside of the city, but he did not venture off the base. Several U.S. senators have toured the city since then.




Today's Top News
Top World News

Lien's visit poised to improve cross-Strait exchanges




FM: Japan's drilling rights 'a provocation'




Wrongly jailed man freed after 11 years




Cabinet thumbs up for economic policy




Farmers' income up; urban-rural gap widens




China's stocks regulator ready to act