Lebanon PM quits, says time for elections
(Agencies)
Updated: 2005-04-14 08:52
Lebanon's pro-Syrian prime minister stepped down on Wednesday, abandoning efforts to form a government to lead the country to general elections, but said there was still time to hold the poll as expected in May.
Prime Minister Omar al-Karami's resignation seemed to make timely elections more unlikely and deepened the political crisis triggered by the February assassination of former Prime Minister Rafik al-Hariri.
Karami, who has now quit twice in six weeks, said he had hit a wall in trying to form a cabinet, whose main task would be to supervise the elections which the United States and United Nations say must go ahead on time.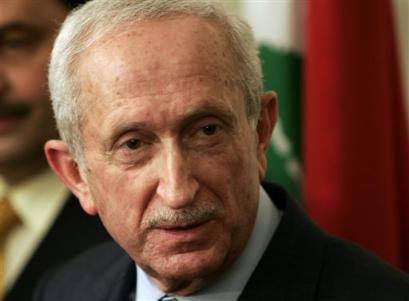 Lebanese Prime Minister-designate Omar Karami talks to the media announcing that he cannot form a Cabinet, a move that deepens Lebanon's political crisis and could effectively undermine legislative elections next month, in Beirut, Wednesday, April 13, 2005.[AP]

"We have once again reached a dead end," Karami told reporters. "That is why I have invited you today to present my resignation."

An official said President Emile Lahoud would hold consultations with lawmakers on Friday to designate a new prime minister. Pro-Syrian MPs are a majority in the assembly and the new prime minister is expected to be a Damascus ally.

Political sources have said the elections could be pushed back by weeks or months by the delay in forming a government. But Karami said there was still time for the poll to be held.

US Secretary of State Condoleezza Rice said she saw Karami's resignation as "an opportunity to move forward."

"Further delays are unnecessary. ... We expect the consultative process required to form a new cabinet will take place immediately," she said in Washington, reiterating the White House call for elections by the end of May.

A State Department official who asked not to be identified said the Bush administration was concerned a political stalemate could interfere with Syrian withdrawal from Lebanon and the relinquishing of power by pro-Syrian politicians.

"Our worry is that all kinds of people would like to find an excuse to not do this, to not withdraw, to not have the election. So at every juncture we want to be very vocal on how the fact is that it is doable and must be done," he said.

Lebanese opposition accuse pro-Syrian officials of trying to delay the vote, in which the opposition is expected to benefit from popular sympathy over Harari's killing.

"IT'S THE UNKNOWN"

Druze opposition leader Walid Jumblatt, commenting on the resignation, warned of a political vacuum.

"If there aren't elections, it's the unknown," Jumblatt said during a visit to European Parliament in Strasbourg.

The Lebanese parliament's four-year term ends on May 31. The constitution requires polls be called at least a month before voting day.

If elections are not held in May, parliament, currently dominated by pro-Syrian legislators, can extend its term by several months to avoid a political vacuum.

The new cabinet must draft the electoral law and supervise the poll, but agreeing on a draft bill and passing it through parliament is expected to take several weeks.

Karami's outgoing government had proposed an electoral law based on smaller constituencies, but the veteran Sunni politician now says the new cabinet would draft a law dividing Lebanon into at least five large electoral districts.

A prominent opposition Christian politician said before Karami's resignation the opposition might call protests against what he said were deliberate moves to push back the elections.

"The delaying tactic is going strong," MP Nasib Lahoud said. "If they go on, we might revert to popular pressure. We might go back to the street to force them to get on with it."

SYRIA BLAMED

Many Lebanese blame Syria and Syrian-backed Lebanese officials for the assassination of Hariri, after which a series of street protests forced Karami to quit.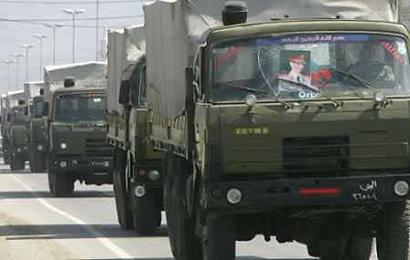 Dozens of Syrian tanks and military vehicles left Lebanon on April 9, 2005 as Syria quickened the pace of a complete military and intelligence pullout promised by the end of this month from its neighbor.[Reuters/file]

Karami was reappointed days after his first resignation. He then failed to persuade the anti-Syrian opposition to join a cabinet with pro-Syrian loyalists.

Karami, who since then was trying to form a government from pro-Syrian figures, also said he would quit a grouping of pro-Damascus Lebanese politicians.

Lawmaker Nasib Lahoud said the delay in forming the government was deliberate.

"It's not innocent. It's part of a scheme the loyalist camp have to delay the elections because they feel they are going to a big defeat," he said.

He said pro-Syrian officials were banking on the opposition fragmenting, but added: "I don't expect divisions."

International pressure, led by France and the United States, also forced Syria to commit to withdrawing its troops from Lebanon by the end of April.

Overnight, Syrian intelligence left an office in the Christian town of Zahle in the eastern Bekaa Valley and 30 Syrian tanks left the country on transporters, witnesses said.




Today's Top News
Top World News

Lien's visit poised to improve cross-Strait exchanges




FM: Japan's drilling plan 'serious' provocation




Wrongly jailed man freed after 11 years




Cabinet thumbs up for economic policy




Farmers' income up; urban-rural gap widens




China's stocks regulator ready to act