Roadside explosion kills 12 Iraqi police
(Agencies)
Updated: 2005-04-13 17:15
Police officers were dismantling what appeared to be a decoy roadside bomb near Kirkuk on Wednesday when another bomb exploded, killing 12 officers and injuring three others, police officials said.
Police Brig. Sarhat Qadir said the explosion 10 miles northwest of Kirkuk occurred as a group of police were trying to cordon off the area. He said officials believed the bomb being dismantled was a decoy to draw in more police before the second bomb exploded.
In Baghdad, insurgents hit an American fuel-supply convoy, leaving a tanker truck engulfed in flames that sent black smoke rising high over the city. Twin blasts targeted the convoy of two U.S. Humvees and a fuel tanker as it made its way through an eastern Baghdad neighborhood, witnesses at the scene said.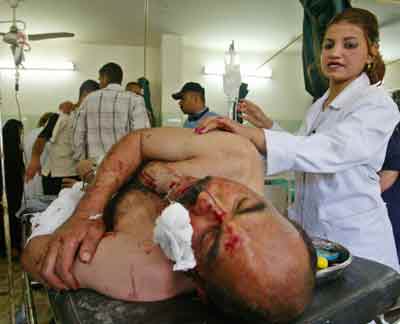 An Iraqi man injured in a car bomb explosion is treated by a nurse at Baghdad's Yarmouk Hospital April 13, 2005. A car bomb blast near a U.S. military convoy on Wednesday seriously wounded four civilians in one of four blasts to hit the Iraqi capital, sources said. [Reuters]

It wasn't immediately clear if there were any casualties. The U.S. military had no immediate comment.

The violence came as Secretary of State Condoleezza Rice's top deputy, Robert Zoellick, arrived in the war-battered capital Wednesday on a one-day visit following a trip to Iraq by Defense Secretary Donald H. Rumsfeld on Tuesday. Zoellick's trip, like Rumsfeld's, was kept secret for security reasons until his entourage landed in Baghdad.

On Tuesday, U.S. troops battled arms smugglers and fighters near the Iraqi town of Qaim along the Syrian border, killing an unknown number of foreign insurgents, the U.S. military said. Local hospital officials reported at least nine people killed in clashes in the same area and said they believed the dead were civilians.

Insurgents opened fire when the U.S. troops began their raid on the smuggling ring Tuesday, and several militants, including at least one suicide bomber, were killed, the U.S. military said in a statement. No Americans were injured, it said.

Residents reported violent clashes before dawn Tuesday in and around Qaim, although it was unclear if the violence was related to the raid.

Hamid al-Alousi, director of Qaim hospital, said his facility had received nine corpses and nearly two dozen wounded in the violence. Residents of a small village just north of Qaim said more than a dozen more people were buried in the area and not taken to the hospital. Residents and hospital officials said the victims appeared to be civilians.

It was impossible to verify the claims.

Without providing details, the group al-Qaida in Iraq, led by Jordanian militant Abu Musab al-Zarqawi, claimed responsibility for the Qaim clashes. The claim, posted on the Internet, could not be verified.

U.S. military officials said that two other raids in the area over the last week had resulted in the capture of smugglers who "confessed to bringing weapons, foreign fighters and money for terrorists across the Syrian border into Iraq."

The Iraqi government, meanwhile, claimed to have captured a former member of Saddam Hussein's regime, Fadhil Ibrahim Mahmud al-Mashadani. The government said al-Mashadani was the leader of the military bureau in Baghdad under Saddam and it accused him of being "among the main facilitators of many terrorist attacks in Iraq."

"Al-Mashadani is believed to be personally responsible for coordinating and funding attacks against the Iraqi people," the statement said.

U.S. officials did not have any information.




Today's Top News
Top World News

Japan told to face up to history, reflect on protests




Tourist attractions freeze prices, for now




Government warns over painkiller drugs




White paper details human rights progress




Mainland open to talks with Taiwan parties




Iraqis increase calls for US troops to leave